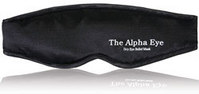 As many as 59 million Americans suffer from Dry Eyes - and Dream Essentials have the very best remedies - including the economically priced Alpha Eye System
Morrisville, NC (PRWEB) January 19, 2011
Today, sleep experts, Dream Essentials, LLC, announced relief for dry-eye sufferers, with the availability of two therapeutic hydrating eye masks and treatments. Whether a person suffers with chronic dry-eye syndrome or just has occasional dry eyes, the Alpha Eye and Tranquileyes promise to hydrate eyes comfortably and effectively. With 59 million people in the United States suffering from some form of dry-eye discomfort, according to the Eagle Vision-Yankelovich poll, now there are healthy and efficient ways to treat it, other than with detrimental prescription drugs or ineffective eye drops. Sleep experts, Dream Essentials, specializes in innovative therapeutic masks for health and sleep and is always looking for new ways to help people stay healthy.
Dream Essentials is the manufacturer as well as both the online retailer and wholesaler of the Alpha Eye system, the specialist eye mask used in the treatment of dry eye disorders that eliminates the 'sandy' feeling that most dry-eye sufferers experience. Its inner pocket holds a disposable liner that rests gently over both eyes and locks in moisture and minimizes the loss of favorite eye drops by slowing down evaporation - relief can be felt for hours. Currently retailing for $39.95, Alpha Eye is affordably priced and can be used during the day for short periods, or all night, so the eyes feel fresh and relaxed the next day.
Alpha Ulm, inventor of the Alpha Eye and dry eye sufferer, comments, "…It's my best 'friend.' I can't imagine living without it. It's always at my bedside. I take it on trips and wherever I go…" She continued, "I have become very accustomed to wearing Alpha Eye every night. It works for me and it can work for you, too!"
Dream Essentials also offers the all-natural Tranquileyes hydrating systems for dry-eye, which all employ the innovative Tranquileyes goggles. This soft, flexible latex-free mask is designed to form a moist humid environment around the eyes to stop the evaporation of natural tears, while moisturizing the delicate skin around the eyes and can also be used as a black-out mask for sleep. This revolutionary system improves eye health by restoring vital eye moisture lost through aging, contact lens use, air transit, low humidity environments, LASIK surgery, allergies and medical conditions and retails from $39.95 to $64.95.
Dream Essentials is an industry leader and best known for its wide variety of sleep masks that everyone can wear; available in a wide array of designs, colors and fabrics from organic cottons to exotic silks. They also carry relaxing herbal masks and gel and bead masks for colds and sinus issues. The main ingredient in all their masks is comfort, so they can be worn sunrise to sunset and in any position.
Dream Essentials not only sell to individuals, but also work with hospitals, clinics, airlines, hotels, spas and catalogs, offering quality health and sleep solutions quickly and at competitive prices. With five factories, they can create new designs for its clients, or tailor existing masks to fit customer needs - no job is too big or too small.
Dream Essentials is also linked to Hollywood, as the official provider of sleep masks to Universal Pictures, and when Jennifer Aniston's character in her upcoming film, Wanderlust, called for her to wear a sleep mask on screen, they called on Dream Essentials to send some over for her to choose from.
Dream Essentials has donated masks for adults and children at Eva Longoria's 'Hollywood's 2010 'Rally for Kids' with Cancer charity event and participated in several 'Dine in the Dark' events for the sight impaired, including 'Badger Association/Center for the Blind' and 'Visually Impaired Children.' Some of their clients include: Vancouver Olympic Village 2010, Dr. Mercola, 'The Sleep Doctor,' Meadows Sleep Center, Lucid Dream and several major hospitals.
Contacts:
Media contact:
peter(at)mackeonis(dot)com +1.831.840.3729
mackeonis@ associates
614 Brewington Ave, Watsonville,CA 95076
Alpha Eye System contact:
peter(at)alphaeyemask(dot)com
Dream Essentials contact:
Mark(at)DreamEssentials(dot)com
Dream Essentials, LLC
3000 Bearcat Way, Suite 118,
Morrisville, NC 27560 USA
# # #