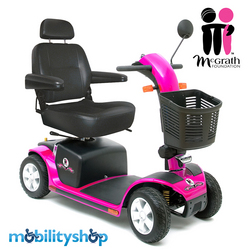 but that is exactly the point: we want people to see a bright pink scooter and say oh, that's the machine that supports breast cancer
(PRWEB) January 20, 2011
'Breast cancer' is one of the most common forms of cancer that affects women in Australia. Each year over 13,000 people will be diagnosed with breast cancer and sadly over two and a half thousand people lose their battles every year. Over the year hundreds of thousands of people donate money and purchase pink products to support both the cure and treatment of breast cancer. The Mobility Shop, in partnership with The McGrath Foundation, is releasing an electric mobility scooter with a complete 'McGrath Pink' paintjob in efforts to raise both money and awareness to this cause.
The 'Metro Four'- available from March 2011- is a medium sized pedestrian scooter that is designed to be taken out on the street or inside a shopping centre. The machine itself is produced by Pride Mobility, one of the leading manufacturers of disability scooters, and boasts both reliability and performance- all in a pink package. "When we first sat down to draft up the scooter we all understood it would have to feature a pink paintjob. Everyone on the design team was a little nervous regarding the choice" says the Manager of Mobility Shop, Ryan Besso. "It stands out, that's for sure" he laughs "but that is exactly the point: we want people to see a bright pink scooter and say 'oh, that's the machine that supports breast cancer'. It will be a mobile, constant reminder to all that see it on the streets that the McGrath Foundation is out there and needs donations".
As the swing-tag that adorns the scooter says, 10% of the RRP will be donated to the McGrath Foundation upon sale of every unit. The McGrath Foundation supports McGrath Breast Care Nurses in communities' right across Australia and educates young women to be breast aware. These nurses are specially trained to act as patient advocates and provide support to women who currently suffer from breast cancer. Each breast care nurse costs $350,000 to employ over a three-year period so continual donations to their foundation is essential. "Australia in general is a generous country- whether it be a crisis or a campaign there are people out there who stand to support the cause- we are hoping that this scooter not only provides direct assistance to the McGrath Foundation, but also acts as a 'donation-beacon' and encourages those who see it to give to this cause".
Australia will begin to see pink scooters roaming the street early 2011. Though set as a 'limited time' offer, both the Mobility Shop and the McGrath Foundation are keen to keep the scooter as a current line all the while there is continual support for the project.
If you would like more information on the Metro Four- or electric mobility scooters in general- contact Mobility Shop on 1300 133 505 contact@mobilityshop.com.au or visit http://www.mobilityshop.com.au for more information.
###