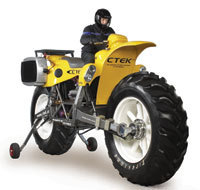 In 1999 CTEK's Big Toe was recognized as the World's Tallest Rideable Motorcycle.
Twinsburg, OH (PRWEB) January 20, 2011
CTEK Smarter Charger's Big Toe, the 6-year Guinness Book of World Records holder for Tallest Rideable Motorcycle is up for bidding Saturday January 22, 2011 at the Barrett-Jackson Scottsdale Arizona Auction. Watch the SPEED TV Channel from 5-7pm MST or attend the auction in person and visit the CTEK Smarter Charger Booth #18J or lot 1287 to see and bid on Big Toe.
Created by Tom Wilberg, Big Toe is one of the most unique motorcycles ever built by hand. Designed and assembled over more than five years in Sweden, Big Toe has won numerous awards and recognitions over the years. In 1999 Big Toe was recognized as the World's Tallest Rideable Motorcycle, certified and published by the Guinness Book of World Records.
Big Toe has also appeared in newspapers, magazines and TV news shows around the US and was featured at the 2006-2007 Advanstar's International Motorcycle Shows, visiting 13 major US cities. Standing at 7.52 tall and over 162 long its dimensions are astounding. Big Toe is also very heavy, weighing over 3,600lbs on top of Firestone Champion tires that are more than 52 in diameter. The engine is a 1975 vintage Type E Jaguar SOHC, 2-valve, 60 degree, 300hp, 5.3L 12 cylinder. Big Toe has a 2-pump custom hydraulic system that operates the suspension and steering. Intake comes from 45mm twin choke Weber carburetors. For the exhaust, a custom stainless muffler system. Additionally, Big Toe has a rack system mounted on the tail spoiler that includes a saddlebag fitted with TV monitors. The dashboard even has a built-in CD/DVD system.
CTEK Power Inc. designs and develops a unique series of high-tech battery chargers and special solutions for all types of lead-acid batteries for both private and professional use
To learn more about CTEK Smarter Chargers and Big Toe, visit: http://www.SmarterCharger.com.
About CTEK Smarter Charger
CTEK was formed in 1997, and is a sister subsidiary to Creator Teknisk Utveckling AB (a leading consulting firm within design and development) which was formed in 1982. CTEK's battery knowledge began in 1992, when a leading battery manufacturer hired Creator for research and development of batteries and later for research on a new system of battery chargers. Since its inception, CTEK has gained the reputation of producing the smartest battery chargers in the world. Over the years, CTEK has sold close to three million battery chargers in 60 countries throughout the world. CTEK is also a reliable OEM supplier to many of the world's most prestigious car and motorcycle manufacturers.
Media Contact:
Ken Palmman
CTEK Power USA
Phone: 330.963.0981
http://www.SmarterCharger.com
###