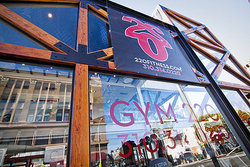 220 Fitness Concepts is Recess for Adults!
Santa Monica, CA (PRWEB) January 19, 2011
Formed by an explosive merge of seasoned fitness veterans and founder, Matteo Baker, 220 Fitness Concepts located on Main Street in Santa Monica, has united the industry's savviest personal trainers and instructors to nurture physical health and mental well-being in a fun, energetic atmosphere. This fusion brings over 20 years of national and international fitness experience to its members and community.
Based on the philosophy that fitness is and should be fun, 220 Fitness Concepts is fully loaded with top-of-the-line equipment, an energetic staff and three studio spaces, making this iconic facility savvy in every sense of the word. The programming schedule features more than 30 classes that give conventional fitness methods an unexpected edge including fun, futuristic classes such as: Kangoo Bootcamp, Gravity Training, Krank and Spin, MMA Conditioning, ZUMBA, Fat Flush (set to live drums) Boxing Circuit, Power Yoga and more.
Blend in the Personal Training component that features some of the most educated and passionate trainers in the industry and you've got a concoction being touted as "Recess for Adults" at 220 Fitness Concepts. Additionally, 220 Fitness Concepts offers eco-friendly green incentives to those members opting to walk or ride a bike to the gym in lieu of driving their car.
220 Fitness Concepts will host its Grand Opening Party on January 27th from 6 to 10 pm. What can you expect? A ribbon cutting ceremony with city manager Rod Gould at 7pm, programming mini-demos, complimentary food and drink, a live DJ, raffles, prizes and lots of high energy fun.
For more information, please visit: http://www.220fitness.com
Media Contact: Holly Hodson 949-228-6900
###