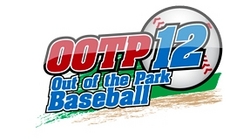 "OOTP is our love letter to armchair baseball managers everywhere, and version 12 has been sealed with a big smooch."
Chico, CA (PRWEB) January 26, 2011
As baseball pitchers and catchers prepare to report to training camps in a couple weeks, Out of the Park Developments is helping warm up winter with pre-order discounts of 25% for Out of the Park Baseball 12 (OOTP 12), the most realistic and immersive version of their baseball management sim yet. PC Gamer called OOTP 11 "a no-doubt, walk-off home run no-brainer to become a part of your game collection," and OOTP Developments is once again swinging for the fences with OOTP 12.
OOTP 12 will ship this spring for PC, Mac, and Linux. Leading off its impressive lineup of features is a complete roster set, from the major leagues to the rookie level. Thousands of real players, from power hitter Albert Pujols to young pitching phenom Stephen Strasburg, are individually rated based on updated statistics and realistic contract data. All of 2010's top draft picks are included too.
"OOTP is our love letter to armchair baseball managers everywhere, and version 12 has been sealed with a big smooch," remarked lead developer and lifelong baseball fan Markus Heinsohn. "It's packed with many great features that we've created at the behest of our enthusiastic fans, who love the sport as much as we do. Even in the dead of winter, we have fans dropping by our forums to ask 'What if you guys do this?' We can't help but feed off that passion."
OOTP lets players run a major league team from top to bottom, setting lineups and pitching rotations, determining defensive and offensive strategies, and making dozens of game-time decisions, such as when to steal a base or employ a hit-and-run. A play-by-play text stream, combined with a visual representation of what's happening on the field, make an OOTP game session feel like a radio broadcast.
Between games, players define scouting budgets, make trades, handle the amateur draft, scour the waiver wire, sign free agents, negotiate contract extensions, demote underperforming players to the minors and call up hot prospects, and more. Many tasks can be delegated to computer-controlled personnel, letting players focus on the aspects of baseball management that appeal to them most.
OOTP also features solo or online play, an historical mode featuring all seasons from 1871 through 2010, a staggering set of league HTML reports, unparalleled customization, and a realistic statistical engine based on modern baseball theory such as DIPS (Defense Independent Pitching Statistics). Athletes perform in a consistent, realistic manner over ten, twenty, even fifty simulated years, letting players watch as their own Hall of Fame grows before their eyes. OOTP's innovative FaceGen feature also allows fictional players' photos to automatically change with age and when they switch teams.
So what's new in OOTP 12?

Revamped Financial System - Contract negotiations are more realistic and fun with revamped artificial intelligence (AI) and the ability for players to now employ vesting options, buyouts, minor league split contracts, signing bonuses, and more performance bonus options. Improved trading AI includes the option for trades to include remaining contract payments.
Online Leagues - With minimal clicks, players can apply to manage a team in an online league or set one up as a commissioner. Online leagues can be made public and advertised within the game, and several key improvements increase the upload and download time of data.
Greater Immersion and Realism - Players have new ways to interact with the athletes on their teams, and expanded storylines add to OOTP's "alternate history" feel. Historical leagues have also been improved with optional real-life transactions and as-played lineups. In addition, all leagues now have a simulation module in which two clubs can be matched up for a certain number of games. That last option is perfect for seeing how teams from different eras would have fared against each other.
Other Core Engine Improvements: recoded parts of the in-game AI, making it the most challenging ever in an OOTP game; improved in-game sound, adding better quality sound files and more variation; improved player evaluation AI, resulting in more realistic AI roster moves; recoded parts of the trading AI; recoded parts of the scouting engine; improved injury and recovery system; added WAR (Wins Above Replacement) as a statistic; added a playoff roster for more realistic team transactions; and a greatly enhanced world database structure, resulting in more realistic fictional league and player creation.
OOTP 12 is available now for pre-order for PC, Mac, and Linux for $29.99. This is a savings of $10 off the final release price of $39.99, and customers who pre-order during January will also be able to download the game two days before the official launch. Pre-orders and further information can be found at ootpdevelopments.com/ootp12/.
In addition, OOTP continues to work on an iOS version of Out of the Park Baseball, dubbed iOOTP. It is expected to be available at the App Store within the same time frame as OOTP 12, which will also be sold at Apple's recently-launched Mac App Store.
About Out of the Park Developments
Out of the Park Developments is the developer of the award-winning OOTP series of baseball management simulations, Title Bout Championship Boxing, and Inside the Park Baseball, a role-playing game. German-based OOTP Developments was founded by Markus Heinsohn and Andreas Raht in 1999 and employs two people full-time and three part-time. OOTP Developments has consistently produced games that have met with critical acclaim, including winning Metacritic's coveted "Game of the Year" for the 2007 edition of OOTP. Further information on the company and its games is available from the OOTP Developments website, ootpdevelopments.com.
###