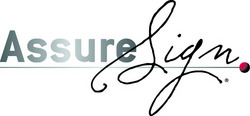 AssureSign's electronic signature software will make it much easier and faster for customers to complete insurance applications online.
Orlando, FL (PRWEB) January 24, 2011
AssureSign LLC's Electronic Signature Technology has been selected as an electronic signature software solution by Southern Farm Bureau Casualty Insurance Company (SFBCIC), a multi-line regional property and casualty insurance company with operations in Mississippi, Louisiana, Florida, South Carolina, Arkansas, and Colorado.
The first SFBCIC subsidiary to implement AssureSign electronic signature software was Florida Farm Bureau Casualty Insurance Company, with the right to utilize the software in remaining SFBCIC states in the future. AssureSign's Web-services will enable Florida Farm Bureau to obtain electronic signatures during the sale of an automobile policy through their website. Electronic signatures are embedded into their insurance application for seamless integration into their existing business process. Applications can also be routed to the applicant's email for signature or in the agent's office, and the signed document triggers policy creation and delivery to underwriting and imaging for archival.
Since the entire AssureSign Electronic Signature process is tracked digitally, users have a complete forensic audit trail of the delivery and signing process. This enables users to know exactly when documents are received, when they are signed, and who has or has not signed them, providing users with complete control over the signing process. With the implementation of AssureSign, SFBCIC can follow the signing process from start to finish and receive notification the moment that signing is complete.
Implementing AssureSign Web-based electronic signatures will assist SFBCIC's agents with the online customer acquisition and service process. The sales process will become much more timely and efficient, and the costs associated with faxing and mailing documents will be reduced.
"AssureSign's electronic signature software will make it much easier and faster for customers to complete insurance applications online," said Matt Packham, Florida Farm Bureau's V.P. of Operations. "Incorporating AssureSign's web based electronic signature into our policy processing systems will streamline the signature capture process."
"The true benefits of AssureSign electronic signature applications are recognized when they are deeply integrated with existing business applications, such as Farm Bureau's policy system," said David W. Brinkman, president and chief executive officer of AssureSign LLC. "This integration allows for document creators to automatically create documents from within existing applications, triggering front- and back-end workflow, so the entire process will save the organization both time and money, as well as creating a streamlined and simple customer experience."
About AssureSign LLC
AssureSign LLC is a leading provider of web-based and on-premise electronic signature software, enabling users to obtain both written and verbal authorizations. AssureSign provides the most integrated and feature-rich APIs available and features a unique, patent-pending technology allowing for the execution of any document with forensically identifiable, biometric signatures or typed 'certified' signatures. AssureSign is a highly secure and flexible "cloud computing" application, and the only e-signature provider with a four year track record of providing customers with 99.99% uptime in a multi-site data center with SAS 70 Type II certification extending to all aspects of the enterprise. Using the standards-based DocumentNOW® and DocumentTRAK™ integration tools, AssureSign can easily integrate with existing business processes within any enterprise, regardless of size. AssureSign's experience extends over 11 years and comprises more than 100 million unique signature events. AssureSign customers consistently experience dramatic cost savings, as well as significant reduction in the time to execute documents. For more information visit http://www.assuresign.com or follow AssureSign on Twitter at http://www.twitter.com/assuresign.
###