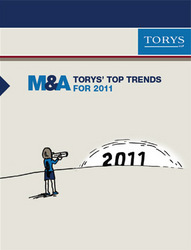 Toronto, Canada (PRWEB) January 24, 2011
Torys LLP has released its annual Top Trends in M&A, which reports that global concern about unbridled foreign acquisition, and the growing tension between boards of target companies and their shareholders, will be among the issues that dominate the M&A market in 2011.
"The year 2010 saw a resurgence in mergers and acquisitions activity, both in North America and internationally," says Matt Cockburn, co-leader of Torys' M&A Practice Group and narrator of the report's overview video. "But accompanying this increase in activity were rising concerns – some old, some new – about the way M&A deals are done: What are the appropriate limits (if any) on foreign investment? Who should ultimately decide whether to sell a company or allow it to be transformed? And if shareholders decide, how do you know that their votes are cast and captured correctly?"
Torys' Top Trends in M&A is an annual publication in which the firm's M&A lawyers outline the trends that they believe will have the most influence on M&A transactions for the upcoming year.
The 2011 animated video can be viewed at: http://www.youtube.com/watch?v=NGThEsCFvgo
About Torys LLP:
Torys LLP, an international business law firm with offices in Toronto and New York, is ranked among the world's top law firms to advise on M&A transactions. The firm's reputation for quality, creativity and teamwork has made it a trusted legal adviser in complex transactions and major disputes on both sides of the border and internationally.
In addition to mergers and acquisitions, the firm offers services in corporate and capital markets; litigation and dispute resolution; restructuring and insolvency; taxation; competition and antitrust; environmental, health and safety; debt finance and lending; project development and finance; managed assets; private equity and venture capital; financial institutions; pension and employment; intellectual property; technology, media and telecom; life sciences; real estate; infrastructure and energy; climate change and emissions trading; and personal client services.
Follow Torys on Twitter, YouTube and Facebook.
###