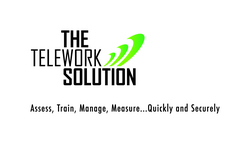 "We are excited about the Telework Enhancement Act of 2010 because we feel this is the direction for work that our country is moving towards and this Act supplies the framework for successful implementation," said Dr. Doug Stone Maj. Gen. USMC SCE's CEO
Sacramento, CA (PRWEB) January 24, 2011
The Telework Solution, the answer for assessment, training, managing and measuring the dictates of the recently signed Telework Enhancement Act of 2010—all in a highly secure environment—has been announced by a consortium of three leading organizations. This turnkey solution to complex telework mandates combines tools that government agencies or private organizations can easily employ and adapt to their specific needs.
The three-party consortium behind The Telework Solution is Teletrips, which provides the assessment and management software, including measurement and reporting programs; e-Work.com, which delivers management and employee training; and Secure Computing Environments (SCE) that enhances the security of the off-site work product.
These businesses, whose clients include AT&T, Microsoft, Sun Microsystems, Sony and many more national and international businesses, developed The Telework Solution to provide the complete package to address successful and rapid teleworker operations.
"We are excited about the Telework Enhancement Act of 2010 because we feel this is the direction for work that our country is moving towards and this Act supplies the framework for successful implementation," said Dr. Doug Stone (Maj. Gen. USMC Ret.), SCE's CEO. "We're also excited being as our consortium has the necessary programs and services in place to assist in the rapid deployment of telework," he added.
The Telework Solution package has tools to establish telework policies, determine employee eligibility to telework and train managers and workers, all while meeting the National Institute of Standard and Technology (NIST) enterprise network and remote access security guidelines. For additional information visit: http://www.TheTeleworkSolution.com
About Secure Computing Environments (SCE)
SCE is an innovative software and technology design and consulting firm with expertise in developing applications and secure, portable environments that allow applications to be processed on any operating system (Windows, Linux, MacOS, etc.) without touching the registry. This allows for total anonymity and security while maintaining the ability to work on data from anywhere. The firm is an expert in cyber security and encryption and off-line solutions for cloud environments and is a founding member of Open Source for America.
Dr. Doug Stone (Maj. Gen. USMC Ret.), the SCE CEO, has led teams both on and off the battlefield. Stone began his career at Hewlett Packard before leading three software start-ups in Silicon Valley that developed new technologies, including being a pioneer in the ASP industry with Qwest CyberSolutions. In the military he was called "the silent hero of the Iraq Surge" by Senior U.S. Government Officials. For additional information, visit: http://www.SecureComputingEnvironments.com or Tony (at) SecureComputingEnvironments (dot) com
About Teletrips
Teletrips is the leading provider of software as service solutions that help organizations improve their triple bottom line performance through intelligent workplace and workforce management. Organizations leveraging the Intelligent Enterprise Platform from Teletrips are positioned to realize millions in operational savings, improve employee effectiveness and substantially enhance environment efficiency – directly impacting shareholders, employees and the communities where they live and work. The company's software has been used by the U.S. EPA and Environment Canada's Commuter Challenge, as well as other government agencies and private corporations throughout the U.S. and Canada. Visit http://www.teletrips.com or gdirks (at) teletrips (dot) com for more information.
About e-Work
e-Work.com, Inc.  is a global provider of web-based training to prepare managers, employees and teams to thrive in today's mobile workplace addressing both "Work Practice" and "Work  Place."  Based on best practices in a distributed workplace, these highly interactive e-learning courses provide students the knowledge, skills, and tools to work anytime, anywhere by improving communication, enhancing collaboration and measuring work performance.  Courses in the e-Work.com library have been used to prepare tens of thousands of employees in mere weeks to thrive in a mobile work environment, and the e-Work.com manager course provides even the most skeptical manager with the knowledge, skills, tools and confidence to successfully manage a distributed team right away. The e-Work.com client list includes AT&T, Microsoft, National Renewable Energy Lab, Aflac, Lilly, Sony, Nissan, PacificLife, and a variety other well-known organizations. For more information visit http://www.e-work.com or contact kate.north (at) e-Work (dot) com
Contact: Tony Sousa
775/473-8884 or 530/523-3200 Tony (at) SecureComputingEnvironments (dot) com
Comprehensive, Secure Solution Announced for
National Telework Enhancement Act
###