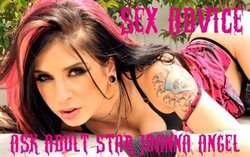 When asked if interested in a sex advice column, Joanna Angel simply replied "Sure. Hell Yeah, I'd love to!"
New York, NY (PRWEB) January 24, 2011
Joanna Angel the award winning International Adult Actress, Producer, Writer, Director and head of BurningAngel.com and star of own website JoannaAngel.com , has been signed on as the official sex advice columnist for Times Square Chronicles. Sex Starlet, Joanna Angel, has become a huge success by writing, acting, and directing adult films for her company Burning Angel, which she started with her college buddy, Mitch Fontaine, in 2002 while attending Rutgers University. Joanna Angel has made countless appearances on G4TV's Attack of the Show, has been featured on CNBC'S "Business of Pleasure", has recently been declared by CNBC as being in the top 12 most popular Adult Stars, making their "The Dirty Dozen" list. Additionally, on Twitter, wefollow.com lists Joanna Angel as the 2nd most followed adult star and 2nd most influential adult star out there. According to a recent survey by Ranker, Joanna has been named one of the Smartest People in Porn, #9 to be exact.
When asked if she would be interested in doing a sex advice column for Times Square Chronicles, Miss Joanna Angel simply replied "Sure. Hell Yeah, I'd love to."
Joanna Angel is no stranger to offering sex advice; she was for a short stint, in spring of 2006, the sex advice columnist for Spin magazine. Joanna also occasionally offers her members of BurningAngel.com sex advice in a section titled "ASSk Joanna". Furthermore, as an international porn star, she is no stranger to, well, sex. As an award winning adult film star she has, to date, starred in almost 100 adult films and has directed over 40 films. In 2010 & 2011 alone, Joanna Angel and her company BurningAngel were nominated for 30 AVN Awards (The Adult Equivalent of the Academy Awards). This year Joanna Angel was granted the prestigious award for Best Adult Website with JoannaAngel.com. Who better to ask advice from form a beautiful woman who has had more sex than most of us, and has the reels to prove it?
At 30 years old Joanna has created an empire for herself, often being credited for having created her own genre of adult entertainment. Her diverse background, comedic style, trademark pink hair and tattoos make her easily distinguishable from her adult entertainer counterparts. As a graduate of the esteemed Rutgers University, she is a brilliant mind in an industry often criticized for its mentally lacking talent. Joanna is a self proclaimed geek whom is often very generous with her time, regularly attending charity benefits, like Vince Neil's Skylar Neil Poker Tournament and Sponsoring Holes (no pun intended) for the Skylar Neil Foundation. In addition to sponsoring charity events, Joanna Angel is an activist who has spoken on panels at prestigious schools such as Yale.
Times Square Chronicles is pleased to be able to announce that International Adult Star Joanna Angel is now a member of our contributing team.
Click here to Ask Joanna Angel A Sex Advice Question.
Click Here for Joanna Angel's Bio
Click Here to Follow Joanna Angel on Twitter
###