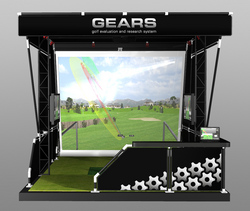 "We're offering a level of empirical swing analysis that the golf industry has never had access to before.
Portland, OR (PRWEB) January 23, 2011
Fulfilling the need for 3D, real-time swing analysis for retail, instruction and research & development, NaturalPoint® is introducing the new GEARS golf performance measurement system – built on the OptiTrack™ motion capture platform.
Utilizing NaturalPoint's OptiTrack cameras and software, GEARS combines the engineering-grade precision of optical tracking with a strong emphasis on an intuitive user interface – a combination that has made OptiTrack popular for applications ranging from biomechanical and scientific motion research, to film and game production.
The GEARS tracking module measures body, club and ball motion with real-time visual feedback. "We're offering a level of empirical swing analysis that the golf industry has never had access to before. GEARS measures hundreds of data points per second, including detailed 3D information like impact location, club head speed, shaft deflection, loft, lie, shoulder angle, spine angle and much more," said Jim Richardson, NaturalPoint co-founder and lead engineer for the OptiTrack motion capture line.
Additionally, powered by a simple interface and club modelling for the top 10 manufacturers in the world, the GEARS club recommendation module enables golf instructors and retailers to recommend the ideal club to customers based on their unique swing profile. "We're excited to offer an unprecedented view into the science behind golf, and how it impacts important decisions like club fitting, swing adjustment and product design," said Richardson.
GEARS systems are available in three configurations:

GEARS Club allows pro shops and sporting goods stores to become go-to retail sources for PGA-level expertise without the need or expense of a tour professional on staff. GEARS equips a sales force with the same leading-edge motion capture technology used by researchers to analyze the world's premier athletes, allowing retailers to transform their pro shop into a world-class golf research facility with the most advanced commercial swing analysis and club fitting system in the world.
GEARS Pro introduces body motion capture in addition to club tracking, enabling golf instructors to evaluate the time history of both club dynamics and body biomechanical motion from a single capture. The result is a holistic assessment of the client's golf swing with a scope of real-time data that traditional club tracking or ball tracking systems cannot provide.
GEARS R&D systems combine the GEARS Pro application with a custom golf-engineering build of Tracking Tools™ for comprehensive research and development capabilities. The complete package supports a variety of engineering workflows via tremendous customization and tracking capabilities.
Demonstrations of GEARS will be available at the PGA Merchandise Show 2011, Jan. 27 - 29, at the OptiTrack booth #473. For additional information, please visit http://www.optitrack.com.
Pricing and Availability
Pricing for the GEARS systems range from $23,500 USD to $59,500 USD. For more information, or to order a system, please contact the company's headquarters in Corvallis, Ore. at 1-888-865-5535.
About OptiTrack
OptiTrack™ is the leading brand of affordable, high-performance motion capture technology. The OptiTrack product line includes motion capture software, high speed tracking cameras, the Insight VCS virtual camera system, and the GEARS golf performance measurement system. Used by facilities worldwide in a variety of markets ranging from film and games to sports training and biomechanics, OptiTrack customers include Under Armour, Halon Entertainment, Nvizage, Electronic Arts, Microsoft Game Studios, Method Studios, Lockheed Martin, NASA, John Deere and other top studios and developers around the world.
OptiTrack products are manufactured by NaturalPoint®, one of the foremost companies specializing in optical tracking technology. For more information, visit http://www.optitrack.com.
About NaturalPoint
Based in Corvallis, Ore., NaturalPoint® is the creator and manufacturer of the OptiTrack™, TrackIR™ and SmartNAV™ family of brands. NaturalPoint specializes in providing innovative control solutions through optical tracking technology, and has developed tracking systems for computers, video games, military simulators and unique display systems. For more information, visit http://www.naturalpoint.com.
###