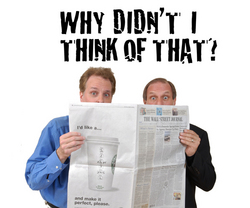 "We're telling success stories of America's new wave of entrepreneurs, everyday people who've built businesses around unusual products or services." -Co-Founder Greg Anastos
Chicago, IL (PRWEB) January 25, 2011
In a distressed economy, what could be more motivational than "rags to riches stories?" That's why marketing veterans Greg Anastos and Bob Smith are launching Why Didn't I Think of That? (R), a venture that celebrates the entrepreneurial spirit with inspirational stories.
"We're telling success stories of America's new wave of entrepreneurs," says Anastos, "everyday-people who've built businesses around unusual products or services." Their stories are told through a radio feature, a blog, and a website where visitors can hear more than 80 2-minute audio vignettes. Anastos and Smith want to syndicate these nationally as a radio feature that tells the story of a new entrepreneur, every day.
"We focus on 'the moment of inspiration,'" explains Smith. "Instead of 'deconstructing' a business using an MBA approach, we concentrate on where they got the idea in the first place – that's what would-be entrepreneurs want to know."
Examples include:

A father and son who build extreme sport pogo sticks. Vurtego Pogo
A little girl's toy that's now teaching immigrants English. Sed de Saber
A man who sells ready-to-use organic pancake batter -- in aerosol cans. Batter Blaster
New success stories debut weekly on the Why Didn't I Think of That? Blog where writer Benjamin Christopher also spotlights emerging entrepreneurs (still striving), and new technologies that can help small businesses. Recent topics include new tablet computers like Apple's iPad, and a series called Three Things Small Businesses Should Know About Google Voice.
Anastos conceived "Why Didn't I Think of That?" while stuck in traffic on Chicago's Edens Expressway. "Over the radio, I heard a story about a fun, new company with an innovative product. I slapped my forehead and said, 'Now, why didn't I think of that?'" Inspired, he and Smith trademarked the question as a brand name for web and entertainment use.
To help other would-be entrepreneurs, the two developed 12 axioms to identify where the best business ideas originate. They also explore stories behind famous established brands, like the accident-prone wife who inspired the world's most popular first aid product.
"We want to help anyone who's fallen on hard times to dig out," says Anastos. To that end, their website also includes "Inspirational Quotes," plus "Helpful Links" for planning tools, copyrights, trademarks, the Small Business Administration and SCORE business mentoring. While radio and the web are their current focus, Why Didn't I Think of That? also plans to deliver stories via YouTube, commercial TV, podcasts and books.
Why Didn't I Think of That? LLC is a limited liability entertainment services company, headquartered in Libertyville, IL.
###