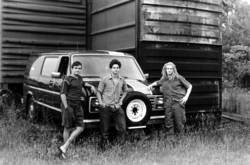 Boston, MA (PRWEB) January 25, 2011
Additional Dates Scheduled in Los Angeles, Denver, Chicago, NY/NJ and Boston
Dispatch, a fiercely independent band that has consistently surprised the music industry with its drawing power, added seven new dates to their highly anticipated concert tour after just four days of a fan pre-sale depleted ticket inventory. Tickets went on sale this past Friday to fans who had signed up on the band's website to receive a special pre-sale password. After just four days, two additional shows have been scheduled in Denver, two in Boston, and one additional show in Chicago and New Jersey/New York. The band also added a previously unscheduled stop in Los Angeles to satisfy fan demand.
Tickets are still available to the highly anticipated summer outing through the fan pre-sale which continues up until the general public on sale on Friday, January 28 at noon local time. Tickets can be purchased through the band's website http://www.dispatchmusic.com.
In New Jersey, where Dispatch will roll into two inaugural shows at the 25,000 seat Red Bull Arena stadium, their New York/New Jersey area promoter Bowery Presents Partner Jim Glancy said, "The pre-sale results are another stunning achievement from Dispatch and their fans. It is impossible to overestimate the power of their music and the passion of their fans." Don Strasburg, Vice President AEG Live Rocky Mountains, the band's Denver area promoter commented, "Dispatch's on sale at Red Rocks was truly epic. To sell almost 20,000 tickets through the fan and American Express pre-sale is unheard of. It's once again overwhelming proof that today's musicians can operate completely independently and reach the highest pinnacles of success."
Dispatch hasn't been active since 2007, when they played three consecutive sold out shows at New York City's Madison Square Garden, selling a total of 60,000 tickets all. The groundswell of support that coalesced around these new tour dates began in November when the band launched Dispatch It!, a special feature on their website (http://www.dispatchmusic.com) which enabled fans to upload photos and videos of their favorite Dispatch moments over the years.
Then on January 1, the band announced that they would give their entire studio album catalog away to any fan that followed a few simple steps – including friending Dispatch on Facebook, following them on Twitter, and sending five friends an email about the tour. Thousands of fans took advantage of the offer, made possible because Dispatch owns the digital rights to their entire album catalog. The unique offer created an enormous viral outreach, quickly igniting the band's large, dormant fan base.
Social responsibility has always been a major component of the Dispatch culture and this summer's tour is no exception. This summer the band will roll out their Amplifying Education campaign, which will focus on educational issues here in the United States. Not only will a portion of the proceeds from each ticket sold go to benefit education in each local market, but the band is planning additional programs to spotlight education in every market they visit.
Known as a band who attained superstar live status completely on their own terms, the members of Dispatch – Brad Corrigan, Pete Heimbold and Chad Stokes – released album after album on their own Bomber Records label, steering clear of the major label system and selling more than 600,000 albums. In the process the trio became true indie pioneers, building an enormous, passionate base of fans through the embrace of internet file sharing, word-of-mouth and constant touring.
DISPATCH 2011 SUMMER TOUR
DATE CITY VENUE
June 3* Morrison, CO Red Rocks
June 4 Morrison, CO Red Rocks
June 5* Morrison, CO Red Rocks
June 7* Chicago, IL UIC Pavilion
June 8 Chicago, IL Millennium Park
June 11 Berkeley, CA Greek Theatre
June 12* Los Angeles, CA Greek Theatre
June 17* Harrison, NJ Red Bull Arena
June 18 Harrison, NJ Red Bull Arena
June 21 Atlanta, GA Chastain Park
June 24* Boston, MA TD Garden
June 25 Boston, MA TD Garden
June 26* Boston, MA TD Garden
*Denotes new date
Dispatch tickets are available at http://www.dispatchmusic.com.
FOR MORE INFORMATION PLEASE CONTACT:
John Vlautin at SpinLab at jv(at)spinlab(dot)net or 818-763-9800
###