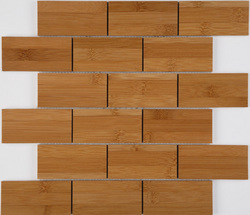 Tempe, AZ (PRWEB) January 27, 2011
AnchorBayTile continues to expand its collection of bamboo tiles by announcing the introduction of the Kaguya Collection of bamboo mosaic tiles. This bamboo tiles collection is available in two designs which include a 2" x 4" bamboo subway tile and a bamboo mosaic tile available in a waterfall design. The Kaguya bamboo tiles are made from real bamboo that is harvested sustainably at maturity, between five and six years.
"We have continued to seek out opportunities to expand our bamboo tiles collection and with the introduction of our Kaguya collection of bamboo mosaic tiles, we are quite pleased that we now offer one of the most complete selections of decorative bamboo tiles in the tile industry," says Steve Khan, President.
He continues, "Our Kaguya Bamboo tiles make a wonderful wall tile complement to any bamboo flooring or hardwood flooring installation. Clients often struggle with what to use to complete the walls in a room where bamboo flooring or hardwood flooring has been installed. The Kaguya bamboo tiles collection now solves this problem. In addition, these bamboo tiles can be used on a kitchen backsplash or in a room as a decorative wall accent, and they are suitable for interior projects in residential or commercial environments."
About AnchorBayTile.com
AnchorBayTile.com is a full service online store offering all types of ceramic tile, glass tile, bamboo tile, and metal tile for residential and commercial customers. The family-run company is committed to providing best-in-industry customer service to support their unique tile designs, shapes and colors. Their products are suitable for projects ranging from a basic residential remodel to a high level commercial design project. For more information, please visit their website at http://www.AnchorBayTile.com.
Media Contact:
Steve Khan, President
AnchorBayTile.com
(888) 260-7371; (480) 365-8978 (mobile)
Steve(at)anchorbaytile(dot)com
# # #