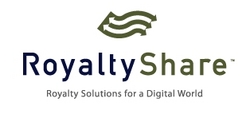 "RoyaltyShare's platform has radically simplified the processing of our revenue data, allowing for timely, accurate reporting both internally and to our authors and publisher partners," Simon Blacklock, Faber Factory
San Diego, CA (PRWEB) January 25, 2011
Faber and Faber, one of the UK's oldest and most iconic book publishers, and RoyaltyShare, Inc., a leading provider of digital revenue management and reporting solutions, today announced that Faber and Faber has selected RoyaltyShare's Digital Advantage™ for eBooks to aggregate and manage its worldwide eBook revenue. In addition, Faber announced that Faber Factory, the publisher's one stop digital service for independent publishers, will also use the platform. Digital Advantage for eBooks gives book publishers a proven solution for addressing large, complex digital revenue data from dozens of eBook, downloadable audiobook, and print-on-demand retailers.
Digital Advantage for eBooks is used by large to medium sized publishers including Hachette Book Group and Bloomsbury USA. The platform delivers substantial cost savings while increasing both the accuracy of digital revenue data and the transparency of the workflows involved in managing the digital revenue process. The platform currently supports the revenue data feeds from over 30 digital e-retailers and distributors worldwide, supporting both the agency model and retail model. They include Amazon (Kindle, Audible, Create Space and AmazonMP3), Apple (iBookStore, AppStore, and iTunes), Barnes & Noble, Sony, Overdrive, Kobo, Google eBooks and others. The solution builds upon RoyaltyShare's years of experience in providing digital transaction solutions for record labels and music distributors for whom RoyaltyShare has processed billions of music download and streaming transactions.
"With the explosive growth of eBook transactions, combined with the launch of our Faber Factory service, we recognized the need for a technology partner to help manage our digital sales channel," said Simon Blacklock, Head of Factory Sales at Faber Factory. "RoyaltyShare's platform has radically simplified the processing of our revenue data, allowing for timely, accurate reporting both internally and to our authors and publisher partners."
"For over 80 years Faber and Faber has been a respected and innovative publisher," said Bob Kohn, Chairman and CEO of RoyaltyShare. "The recent launch of Faber Factory is clear evidence that they are also innovators in digital distribution. By using RoyaltyShare's services, Faber and Faber is completely automating the management of its sales reporting, freeing up IT and management resources to focus on creating, marketing and selling eBooks."
Digital Advantage for eBooks automates and tracks the import and normalization of revenue transaction data received from e-retailers, provides sophisticated tools for clearing transaction errors, aggregates the transactions into an output feed that can be customized for downstream royalty and ERP systems, and provides Web-based analytics to examine sales trends. The result is a highly scalable solution for book publishers now faced with processing and managing sales data from dozens, and potentially hundreds, of electronic retailers and distributors worldwide who offer eBooks, downloadable audiobooks, and print-on-demand services—whether under the agency or retail models, or emerging subscription and advertising-based services.
RoyaltyShare's Digital Advantage for eBooks™ platform was recently enhanced with the launch of Sales Feed Price Validation, a crucial tool that helps agency model publishers validate eBook sales pricing compliance. Offered as an optional module, this new price validation tool helps publishers identify and manage transactions in which the actual sale price reported by retail agents is not in accordance with the price set by the publisher, potentially saving tens of thousands of dollars in lost revenue and preventing downstream reporting errors. Book publishers distributing eBooks under the retail model may also use the tool to validate that e-retailers are using the proper suggested retail selling price established by the publisher, an important mechanism for assuring proper payment from e-retailers.
RoyaltyShare's Digital Advantage platform has also been selected by the New York Times to help validate sales data for their forthcoming New York Times Best Seller lists for eBooks.
About Faber and Faber
Founded in 1929, Faber and Faber remains one of the last of the great independent publishing houses in London. With the great depth of its backlist, featuring books by no fewer than twelve Nobel Laureates and six Booker Prize-winners, a thriving frontlist, and new ventures including the Faber Finds imprint, the company continues to go from strength to strength. Faber also has a vibrant ebook program of front and backlist title and was cited in The Bookseller as one of two publishers dominating ebook sales.
Faber Factory is a fully comprehensive digital service to enable independent publishers to have an immediate and cost effective digital publishing program without having to invest in additional resource and add to their overhead. Faber Factory builds on Faber and Faber's unique position in the independent sector and track record in building successful partnerships with independent publishers such as the Independent Alliance.
About RoyaltyShare
RoyaltyShare, Inc. is the leading provider of global digital revenue management and reporting solutions for the music and book publishing industries. Utilizing an innovative Software-as-a-Service (SaaS) application delivery model, RoyaltyShare provides a suite of on-demand services dedicated to simplifying the increasingly complex digital sales channel. RoyaltyShare's technology is used by hundreds companies around the world. RoyaltyShare is based in San Diego with offices in New York and London. More information on the company can be found at http://www.royaltyshare.com.
###