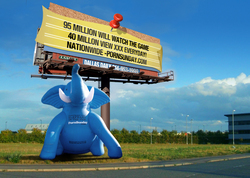 95 million people will watch the Superbowl but 40 million people watch XXX everyday.
Dallas, TX (PRWEB) January 27, 2011
DALLAS, Texas, Jan. 26, 2011 – On the day of America's biggest game, more than 300 churches will tackle one of America's biggest problems by observing National Porn Sunday on Feb. 6.
"It's the Sunday of the Super Bowl, and the game generates huge numbers," organizer Craig Gross said. "It is estimated that 95 million will watch the Super Bowl, but research shows that 40 million Americans visit porn sites every day. The porn revenue is larger than the revenues of the professional football, baseball or basketball leagues in this country."
Gross started XXXchurch.com, a revolutionary web network that exists to help people who are in over their heads with pornography. XXXchurch is the ministry that created National Porn Sunday.
The focus of Porn Sunday is to get churches and pastors talking about pornography and sexual addictions, what Gross calls the "elephant in the pew."
"We're using the visual of an elephant because porn is an issue that needs to be discussed but that the church usually avoids," he said. "This is a problem in the church that cannot be hidden any longer."
The heart of the Porn Sunday service will be a 35-minute video featuring a message from Gross and the personal stories of several current or former National Football League players, including quarterbacks Matt Hasselbeck of the Seattle Seahawks, Jon Kitna of the Dallas Cowboys and Josh McCown, who has been on five NFL teams but most recently played for the Hartford Colonials of the United Football League.
Also featured are defensive tackle Ryan Pickett of the Green Bay Packers, who will be playing in the Superbowl; San Diego pastor Miles McPherson, a former defensive back for the Chargers, and Eric Boles, a retired wide receiver with the New York Jets and Packers.
Research shows the average child first sees pornography at age 11. For this reason, Gross has designed the Porn Sunday service to be appropriate for children of middle school age and up.
Gross and the XXXchurch team will be in Dallas the week leading up to the Super Bowl. They will appear at a service at 11 a.m. CT Feb. 6 hosted by Presence Church at the Addison Conference Center at 15650 Addison Road. They have rented 4 billboards throughout the Dallas area advertising the nationwide event.
This year, reflecting the international nature of the problem, churches from every continent except Antarctica are participating in Porn Sunday. The list of participating churches can be found at http://www.pornsunday.com.
# # #