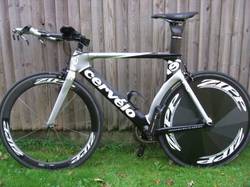 You'd expect to see a spike in traffic to the sports section for the usual seasonal reasons but this year people seem to have gone sports — and specifically cycling – crazy.
(PRWeb UK) January 26, 2011
With New Year resolutions still fresh in their minds, and keeping fit and shaping up top of the list, you'd expect to see a big rise in people enquiring about sports equipment and sports clothing during the month of January. But this year, according to free classifieds site, VivaStreet.co.uk, it seems more people than ever are planning to see their resolutions through.
VivaStreet witnessed a sizeable surge in traffic to its Sports Equipment & Clothing section, with visitor numbers already 58% higher in January 2011 compared to the whole of January 2010. Traffic levels in January 2011 are also up 76% and 123% on November and December 2010 respectively.
By far the most popular ads on VivaStreet, commanding 44% of the traffic, were those containing second hand bikes and exercise bikes. Also a hit were cross trainers and free weights, soaking up an impressive 23% of the traffic to the Sports Equipment & Clothing section.
But some people clearly wanted to take up a more leisurely sporting activity in 2011. Second hand golf equipment — from golf bags and balls to shoes and clubs — also proved popular, receiving 17% of the traffic. But for some, even golf is too much of an effort: fishing equipment was another big hit with Brits in January, receiving 9% of all traffic to the Sports Equipment & Clothing section.
James Pass, UK Country Manager, VivaStreet.co.uk, comments:
"You'd expect to see a spike in traffic to the sports section for the usual seasonal reasons but this year people seem to have gone sports — and specifically cycling – crazy. Maybe it's the Boris Johnson effect, or perhaps people are looking for a more cost-effective way to lose the pounds than a costly gym membership in these still difficult economic times."
# # #