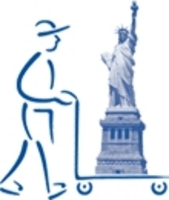 New York, NY (PRWEB) January 27, 2011
Top New York moving company Shleppers Moving & Storage is proud to announce that its President and co-owner, Jason Friedland, is featured by Provident Bank in the bank's Connect Magazine 2011 Winter edition.
Provident Bank is the largest independent, full-service community bank serving the lower Hudson Valley. Through his various real estate development activities with Westrock Development, Jason is a large customer of the bank. "Connect" is the bank's primary tool for periodically connecting its thousands of customers which is part of its mission to "connect people with opportunities". In the article, Jason's experience as a real estate developer is highlighted along with his activities as President and co-owner of Shleppers Moving & Storage.
About Shleppers Moving & Storage:
Founded in 1978, Shleppers Moving & Storage began moving with one van and one vision--to serve its customers with commitment and integrity. By working in partnership with customers, New York's top movers have earned a reputation as the city's number one moving and storage company, offering a wide range of relocation services, including local, long-distance, and international moving, packing, unpacking, and private storage. With dedication, teamwork, and innovation, Shleppers is a NY moving company that puts customers first, creating a moving experience that's efficient and reliable from the first box to the last. Shleppers is also deeply committed to charity and community involvement, with its donation of trucks and logistical support for The Catholic Charities of Brooklyn & Queens, The March of Dimes, National Multiple Sclerosis Society, Memorial Sloan-Kettering, The Food Allergy & Anaphylaxis Network, The JCC Maccabi Games, UJA Federation, the Community Mayors Foundation, and others. For more information, quotes, supplies, or moving tips, please visit Shleppers.com.
About Provident Bank:
Provident Bank has been connecting businesses and individuals with life's opportunities since 1888. Founded in Spring Valley, New York, Provident Bank is now the largest independent full-service community bank in the lower Hudson Valley, serving Rockland, Orange, Sullivan, Ulster, Putnam and Westchester Counties in New York as well as Bergen County, New Jersey under the Towncenter Bank name.
Over the years, the bank has cultivated a rich history of which it is truly proud. During the "Great Depression", for example, Provident Bank was the only bank in the area that did not have to close its doors and continued to serve customers through one of the most financially challenging times in American history. Over the years, it has held to a disciplined approach to banking to maximize value to its shareholders and customers. Visit http://www.providentbanking.com.
###