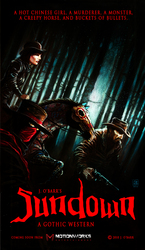 "Sundown is my attempt at re-inventing the Western" -James O'Barr
Dallas, TX (PRWEB) January 27, 2011
Before today's announcement, the only information released from James O'Barr was the creation of a gothic Western entitled Sundown. The preview for the Sundown series introduces audiences to four dynamic key characters within the books.
Taking the oil-painted images of Sundown and translating them into a digital motion comic proved to be an experiment turned masterpiece. James O'Barr and animator Darren Laessig set the tone to expect the unexpected. They have produced gorgeous images brought to life through motion and propelled by electrifying music by the Scottish band, The Cranes. O'Barr's artistic maturity shines through with his rendering and use of explosive color, whilst maintaining the true dark grit that is quintessential James O'Barr. Audiences will both be intrigued and awed by the preview and be left wanting more.
The accomplished artist states: "I feel like this medium is a perfect match for this story. It's new territory because I haven't been exposed to motion comics to a great degree, so I don't know any boundaries. Sundown is my attempt to reinvent the Western."
O'Barr has teamed up with Dallas-based Motionworks Entertainment to create his initial digital motion comic. The pioneering project will be unveiled at the first ever New Orleans Comic Con January 29 - 30. Audiences outside of New Orleans will be able to feast their eyes on the mesmerizing preview on Saturday, January 29 at 9 p.m. Central Time. O'Barr will be broadcasting via Livestream to release his preview and give an artist talk.
Audiences can view the live presentation on Livestream.com, the Motionworks Entertaiment website, or on Facebook.
###