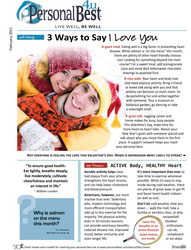 Birmingham, AL (PRWEB) January 28, 2011
Personal Best®, a leader in employee wellness solutions, announces the launch of Personal Best 4.U, an interactive, online magazine that features articles on healthy lifestyle choices, tips to improve productivity, and safe habits for both the home and workplace.
This innovative, new wellness solution inspires employees to exercise, eat healthier meals, and kick bad habits, and provides them with the information they need to make healthier choices--ultimately saving their employers money. As organizations invest in wellness initiatives, they often see improved morale and decreased illness and absenteeism in the workplace. In fact, studies indicate that investing in health and productivity programs shows a return on investment between $1.49 and $13.00 per dollar spent. Personal Best 4.U provides a timely cost-effective solution for organizations of any size to motivate their employees to lead a healthier lifestyle.
Every month, Personal Best 4.U provides positive reinforcement as a 'live well' philosophy is reinforced to employees, guiding them to healthier decisions. The publication is also fully customizable. Not only can an organization add their company logo, but also customize the content. Each issue is expert-reviewed so subscribers can trust that the information provided has been approved by health and wellness professionals. And each monthly issue is interactive and easy to access, with no usernames or passwords to remember. Hardcopy versions of the publication are also available.
"We believe Personal Best 4.U is an innovative resource. It was built from feedback received from our clients as well as surveys conducted with prospective clients. We reviewed the feedback and then built the publication with our clients in mind, which has made a positive impact on the final product. In fact, we were rather shocked to already have subscribers prior to the formal launch of Personal Best 4.U. Everyone who has seen this publication has loved it." said Personal Best Publisher, Bob Amato.
Personal Best is a major publisher of employee wellness informational materials covering such areas as health and wellness, safety, productivity, shift work and personal money management. Resource materials are available in various electronic and hard copy formats. The company's TopHealth®, Personal Best Healthlines®, and Body Bulletin newsletters reach more than 1 million readers each month at nearly 10,000 organizations. Personal Best is a division of Oakstone Publishing, a medical and wellness communications company that specializes in providing educational materials and resources for healthcare professionals and those organizations interested in encouraging healthy lifestyle choices among their employees. For additional information, visit us online.
###