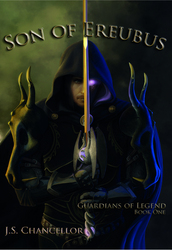 "Guardians taps into those regions of the heart where yearning and unquenchable faith still burn. ~Ien Nivens, Berksire Fine Arts Review
Wenatchee, WA (PRWEB) January 28, 2011
Just two weeks after Rhemalda Publishing released Son of Ereubus, Book One in the new Guardians of Legend trilogy, author J. S. Chancellor's epic fantasy book was stolen by literary pirates. The stolen book went viral, with staggering numbers of downloads from multiple sites. Rhemalda Publishing had to make a choice--use valuable resources to take up a fight against the pirates or find a way to use it to its advantage.
Rhemalda Publishing and Author J.S. Chancellor teamed up by posting a request on Chancellor's Facebook fan page for readers who had downloaded the book illegally to consider posting a review of the book online.
When asked how she felt about her debut novel--which she had worked 14 years writing and perfecting-- being pirated, Chancellor responded, "I'm not Stephen King, folks…and I'm flattered that someone out there, somewhere, thinks it's good enough to steal. Honestly. But that warm fuzzy feeling, like a good strong night's worth of drinks, leads a vicious migraine and one hell of a stomachache."
Now, months later, the reviews are coming in and they are not being shy, stating that J. S. Chancellor's book, Son of Erebus, will sit on shelves next to the likes of Tolkien, Barker, King and Goodkind. The book is quickly gaining notice. Although coming in a less desirable way, the attention garnered by the pirating "attack" has hoisted interest in the book.
A. J. from A. J. and Charile Bite Back book reviews said "... this book left me salivating for more... Brilliant in its complexity, coupled with the age- old themes of good versus evil, Son of Ereubus, in my humble opinion, is the next big thing in fantasy."
Rehabilitated Hack Writer Anthony Pacheco couldn't say it better: "Son of Ereubus by J. S. Chancellor is like a warm piece of olive bread slathered generously with fantasy je ne sais quoi. So very delicious. Oh, did I eat the whole loaf? Whoops... I can't wait to read the next book in the series, for Son of Ereubus was pure epic fantasy awesomesauce."
Ien Nivens of Berkshire Fine Arts says that "Guardians taps into those regions of the heart where yearning and unquenchable faith still burn for evil men and good alike. We find nobility and perversity in equal measure here. The coin is tossed, set spinning by a sure hand in Son of Ereubus. My call is for heads-up, J. S. Chancellor is a novelist to keep an eye on."
Recently referred to as "the new Chancellor of fantasy," J. S. Chancellor is a debut author whose books you need to read.
Son of Ereubus; Guardians of Legend, Book One
Author: J. S. Chancellor
Publisher: Rhemalda Publishing
Publication Date: November 2010
ISBN paperback: 978-0-98-27437-4-4
ISBN .ePUB: 978-0-98-27437-5-1
ISBN .ePDF: 978-0-98-27437-8-2
Pages: 310
Price: $17.95
About the author:
J.S. Chancellor, whose personal motto is, "woe is the writer who mounts their merit on the masses," started writing stories when she was still in grade school, and finished her first fantasy novella at the age of 14. She drafted chapter one of the Guardians of Legend trilogy when she was a freshman in high school, sitting on a stool in front of a piano bench in her parents' den. It wasn't until she was 25 when a resident at the apartment complex where she worked lovingly made a casual remark about her procrastination that her passion for fantasy fiction took center stage. Since then, she's focused all of her efforts on writing, including leaving her full-time job in September 2009 and actively maintaining a blog dedicated to the art of crafting fiction at www(dot)welcometotheasylum.net. You can find her there, or her official website, www(dot)jschancellor.com. She currently resides in Georgia with her husband and two beloved dogs.
Blood of Adoria; Guardians of Legend, Book Two releases November 1, 2011. It will be available for pre-order Spring 2011.
Eternal Requiem; Guardians of Legend, Book Three releases November 1, 2012.
Publisher contacts
Book orders: http://www.atlasbooks.com/rhemalda/ereubus.htm, online retailers and your local bookstore.
E-mail media inquiries and review copy requests to: guardianstrilogy(at)rhemalda(dot)com or call 509.881.4313
Additional media resources available:
Author page at Rhemalda Publishing: http://www.rhemalda.com/authors/c/j-s-chancellor/
High-quality author and book cover images, book sales sheet, electronic press kit and reader guide.
# # #