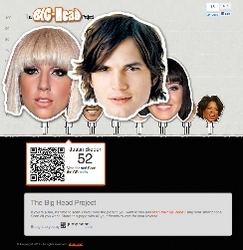 "JumpScan's Big Head Project will determine which Twitter celebrity has the most tech-savvy fan base"
Brevard, NC (PRWEB) January 28, 2011
With a snap of a camera, smart phone users can now give their favorite celebrity a big head, thanks to JumpScan, an all-in-one, custom QR code generator. The Big Head Project, an effort to showcase QR technology, features the top Twitter celebrities based on the number of followers, including Ellen DeGeneres, Oprah, Justin Bieber, Ashton Kutcher, Lady Gaga, President Obama, Katy Perry, and Taylor Swift.
Any web-enabled smart phone with a QR reader can scan the QR code under their favorite celebrity to cast a vote. Each vote inflates the head and scores a point. The celebrity with the most votes will have the most tech-savvy fans and win the coveted "Big Head" award.
The idea behind the contest is demonstrate the physical-to-virtual capability of QR codes. "They work great for creating interaction between the offline and online worlds," according to JumpScan co-founder Mike McKearin. "We're seeing them used for everything from instant mobile purchasing, movie information and streaming video to real estate signage and scavenger hunts."
QR (quick response) codes originated in Japan in the mid 90s and surged in popularity in the U.S. with the recent increase in smart phones, such as the Apple iPhone and Google's Droid, as well as the move to high speed 3G and 4G networks on AT&T, Verizon and Sprint.
"We're seeing a tremendous interest from brands and marketers looking to capture, connect and interact with consumers on the go," states Phil Davis, fellow JumpScan co-founder. QR codes have shown up in Best Buy, Target and other large retailers beginning last year, familiarizing a growing number of shoppers to the curious looking black and white boxes. "Once more people are using smart phones with QR scanners, the ease of scanning codes will simplify the process, making it more intuitive," Davis predicts.
"We'll be making an announcement in the next couple of weeks about which celeb has the most smart phone fans," Davis continues. "I know the President is a big Blackberry fan, but I wouldn't count out Ellen's base." If she wins, we'll even have her do a victory dance."
###