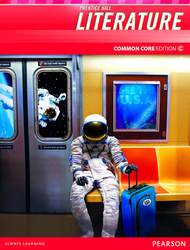 Texting lingo has infiltrated the classroom. We're looking at a generation of tweens and teenagers who have grown up communicating without a focus on punctuation or proper grammar. Teachers need help in combating this extensive and growing trend
Orlando, FL (PRWEB) January 31, 2011
No surprise. Today's texting generation is reading less. And, oh yes, what about their writing skills? Texting's shortcut language won't help those either. And are speaking and listening skills suffering too? Hmm. A big challenge for English teachers everywhere.
"Texting lingo has infiltrated the classroom. We're looking at a generation of tweens and teenagers who have grown up communicating without a focus on punctuation or proper grammar. Teachers need help in combating this extensive and growing trend," said Doug McCollum, who heads up Pearson's School Literacy Programs.
McCollum continued, "As we began development of our new Prentice Hall Literature Common Core edition, we knew we had to tackle issues around student engagement and pinpoint every principle that the Common Core Standards address. Working with our experts, we developed a program to meet the rigors of the standards, but designed for ease of implementation in the classroom. The new program motivates students and will help build all of those essential skills they will need to be ready for college and careers."
Here is how Pearson's Prentice Hall Literature Common Core edition is tackling the reading, writing, speaking and listening, and language skills outlined in the new English Language Arts standards:

Text Complexity -- Pearson's systematic approach to helping students read texts of increasing complexity includes tiered reading selections to individualize learning at the point of instruction. Teachers can assign passages based on the reading ability of each student.
Literary Analysis -- Step-by-step examples of exemplar texts, as outlined by the Common Core State Standards, are integrated throughout the curriculum to ensure all students can meet the rigors of the new principles. Every unit includes a featured literary figure whose work is also analyzed by an academic within the unit, serving as a model for students' own thinking and writing.
Independent Reading -- All classic, contemporary, and informational reading selections in the program emphasize the same writing, vocabulary, and analysis skills, so every student builds the necessary literary and cultural knowledge that can then be applied when reading independently. And, additional learning exercises are integrated into the program to help struggling readers, while enrichment activities keep advanced students engaged.
Informational Text Across Content Areas -- Repeated exposure to nonfiction prepares students for the reading they will need to compete in the 21st century. Prentice Hall Literature's expansive use of historical, scientific, and factual texts helps students gain knowledge and confidence to work independently with challenging texts.
Integration of Reading/Language Arts Skills, Writing, Speaking and Listening -- Two in-depth writing workshops in each unit take students through the complete writing process -- from drafting to publishing. Collaborative group activities are also incorporated in all units. Vocabulary and communications workshops, which emphasize speaking and listening, build essential college- and career-ready skills.
Traditional and Performance-based Assessment -- Students are assessed across the key Common Core domains of reading, writing, speaking and listening, and language through cumulative reviews and appropriately aligned performance tasks.
Best in Class Digital Resources -- The program's award-winning digital path offers a personalized learning environment with individualized instruction that meets each student at his or her learning level. By engaging adolescent learners with current and relevant digital tools, the program can measure student progress, diagnose student weaknesses through embedded assessment, provide individualized remediation, and generate a range of standards-based reports so teachers can make data-driven decisions quickly and easily.
Professional Learning and Teacher Support -- The Common Core State Standards are referenced throughout Pearson's support guide and free online lesson planning is available to help teachers connect the Common Core to the classroom. Free, online training is available at http://www.mypearsontraining.com or through in-person professional development workshops that support all levels of school personnel during the transition from current to new standards.
For schools that have recently implemented PH Literature 2010 or have an earlier edition of the program, Pearson is offering transitional support by providing a Common Core Implementation and Overview Guide and a Common Core Student Companion Workbook that offers point-of-use support for teachers and complete practice for every Common Core State Standard.
More information about Pearson's Prentice Hall Literature Common Core edition is available at http://www.pearsonschool.com. For more on all of Pearson's Common Core solutions, go to http://www.pearsoned.com/commoncore.
About Pearson
Pearson has a vision of effective education: a virtuous circle of learning where powerful technologies enable teachers to assess students unobtrusively, diagnose their learning needs swiftly, prescribe personalized learning, and monitor student progress. This ongoing cycle of feedback to students, teachers, and parents begins by optimizing assessment data and putting it to work for continuous improvement in student progress and teaching effectiveness. For more, visit http://www.pearsonschool.com.
For more information, press only:
Kate Miller, kate(dot)miller(at)pearson(dot)com - 800.745.8489
# # #