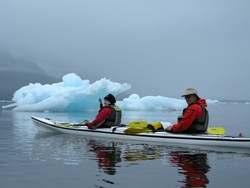 "We wanted to make this remote part of Chile & Patagonia accessible for kayakers of all abilites, and offer our guests a small group, personalized experience combined with luxury travel."
(PRWEB) January 29, 2011
A Last Minute Seat Sale now means savings of over $1000 per person for this kayaking tour in Patagonia, February 27-March 9th. Now only $3950 CDN per person (no tax).
This tour allows you to experience Spirit of the West Adventures quality while exploring the beautiful outer islands of southern Chile. We will experience the best of what Chile has to offer in a mothership-style sea kayaking tour: wine, whales, wildlife and wilderness paired with sea kayaking in one of the most stunning places on earth, all from the comfort and convenience of a small expedition ship.
Blue whales usually migrate vast distances during the year, feeding abundantly in summers and moving to warmer waters to nurse their young in the winters. The Gulf of Corcovado in Patagonia, off the coast of the Chilean Island of Chiloe, has recently been discovered as a unique feeding and nursing ground for over 150 individual whales—whales that may not migrate as far as others due to abnormally rich waters in this area. And with the blue whale population the highest it's been in over 70 years, there is no better time to pay a visit.
"We wanted to make this area accessible, and offer our guests a unique and educational experience," says owner Breanne Quesnel. "This trip combines elements of luxury travel with rare access to a remote wilderness. The best way to travel: adventure and comfort!"
Guests explore aboard the comfortable 57-foot motor vessel Noctiluca as she plies the protected waters of the Chilean Patagonia coast, with daily kayaking adventures in the stunning group of islands or along long sandy beaches. Paired with a day of tastings and tours in one of Chile's awarding-winning wine producing areas, and a guided tour of the highlights of Santiago, it's an experience designed to awaken all the senses.
Blending the traditional artwork of experienced Chiloe boat builders with the latest technology in boat design, safety and interior finishing, the Noctiluca offers a cozy wooden interior and comfortable cabins as well as safety and reliability. The ship features two double guest cabins and a front cabin with four single beds. All share two roomy heads (bathrooms) complete with hot water and showers. The yacht is handled by a skilled captain and crew with decades of experience in Patagonian waters.
The tour is all-inclusive from Santiago. All you need is your passport and a desire for adventure.
It ain't no fluke: for those who like whales, this is the trip of a lifetime.
To learn more about the tours that Spirit of the West Adventures offers, please visit us at;
Website: http://www.kayakingtours.com
Email: info(at)kayakingtours(dot)com
Phone: 1-800-307-3982 or (250)-285-2121
Facebook: http://www.facebook.com/spiritofthewest
Happy Paddling!
###