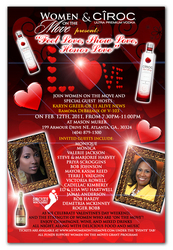 Women On The Move pools the strengths and resources of women from all walks of life together to promote positivity and success...
(PRWEB) January 29, 2011
PRWEB) January 29, 2011 -- Women On The Move, a non-profit organization based in South Florida, will be spreading their message of female empowerment to the city of Atlanta, Georgia on Feb. 12th, 2011. "Feel Love, Show Love, Honor Love", is an event created by Women On The Move with the purpose of honoring individuals within the local Atlanta community who continually strive to make a difference. Some of the honorees are: Valerie Jackson, former First Lady of Atlanta, Patricia Russell-McCloud, 11th National President of The Links, Inc., National Parliamentarian for AKA Sorority, Inc., and identified as one of the top ten speakers in America, Elder Bernice King, daughter of Martin Luther King Jr, Rashan Ali, radio and television personality, Priya Scroggins, noted entrepreneur and Business Woman, Shannon Britton, Marketing Director of Diageo, Hattie Dorsey, Founder, and former President of The Atlanta Neighborhood Development Partnership, Mali Hunter, of BET, and Noni Nicholas, of BET.
Hosted by Karyn Greer from 11Alive news and Ramona DeBreaux from V-103 Atlanta, this event will serve as a prelude to Valentine's Day. The event's aim is to bring like minded people together in order to inspire positivity and growth; and to show appreciation and love. Notable invited guests include Mayor Kasim Reed, Congressman John Lewis, Bob Johnson, Roger Bobb, Monique, Rob Hardy, Suchita Vadlamani, and others.
"Feel Love, Show Love, Honor Love", is sponsored by CIROC Premium Vodka, Barefoot Wine and Bubbly, Uptown Magazine, Jersey Girl Sports, Sam's Club, and CostCo, and will take place at The Mason Murer Art Gallery. Guests will be able to enjoy a Pre-Valentine's Day night of Fine Contemporary Art, Fine Dining, great people, and great music, and awesome Drinks all evening. Tickets are available for purchase at http://www.mywomenonthemove.com and discounted tickets are available for couples and tables of 10. This will surely be an Elegant Affair to remember, as well as an important occasion that should not be missed.
This event is a spin-off of the success of Women On The Move's previous event, Unveil Your Pink, that promoted breast cancer awareness. This time around, all proceeds will go to Women On The Move's grant programs that aim to assist women, women-owned businesses, and a new program being rolled out to assist seniors with monthly medication costs.
Women On The Move was founded in 2009 with the goal of empowering and embracing women from all walks of life. Women On The Move is a non-profit organization that promotes positivity in women, and highlights their strength, tenacity, and diversity. The organization serves as an outlet for women to express their ideas, and a resource for networking. Although the organization is fairly young, Women On The Move, through the hard work of its founder Leslie Harris, is quickly becoming the "go to" organization for women's issues.
For more information regarding the event and/or Women On The Move please contact Jonell Whitt, of Jonell Media PR at: JonellPR@gmail.com , 404-552-9661 or Leslie Harris at Leslie(at)MyWomenOnTheMove(dot)com or 561-200-0580. Tickets may be purchased at http://www.mywomenonthemove.com.
###