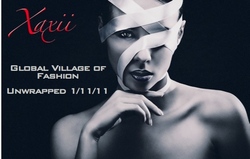 Thank god, now I don't have to marry a millionaire! - an aspiring fashion designer in Europe
Chicago, IL (PRWEB) January 11, 2011
Xaxii officially launches its social commerce site for the fashion, beauty and lifestyle industries. The site is dedicated to connecting people from all aspects of the fashion industry-- from fashion lovers to designers, from up-and-coming models to their photographers, and from fashion product creators to their manufacturers and suppliers. The online tools provided by Xaxii facilitate rise of emerging talent without the traditional influence of industry gatekeepers. The Xaxii Bazaar, opening shortly, functions as an international marketplace for cutting edge designers to market their goods and for fashion-forward buyers to find the latest and greatest in worldwide trends.
As things stand, both the fashion-forward outsiders and emerging entrepreneurial insiders often find it challenging to break into the contemporary tight-knit fashion industry. Rise of general purpose social networks with large member bases and fragmented discussions have not made the task any easier, so it's now harder than ever to get noticed. Having prodigal talent, a passion for fashion or a well-produced fashion site isn't enough--without the right connections and exposure necessary to stand out on the Web, high aspirations are quickly shot down. Many young, independent designers, models, and photographers among many others become discouraged and must look elsewhere to pursue their passions and launch their careers.
Xaxii was born out of this void for fashion hopefuls and industry entrepreneurs to interact and cooperate to produce, market, converse, connect and share globally. It is an ambitious social commerce site designed specifically with the interests of fashion-forward individuals worldwide in mind, and allows both fashionistas and business players to interact and conduct business.
Xaxii, with its collection of present and planned online tools, enables a true alternative to modern fashion industry practices. The specific focus and goals of Xaxii set it apart from any other social networking resource currently available to anyone involved in fashion, and these are the cornerstones for breaking through the roadblocks of the industry and changing fashion as we know it.
# # #