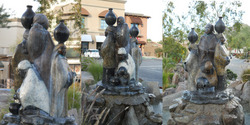 Palm Springs, CA (PRWEB) January 18, 2011
In just a few days time, on January 21, 2011, Palm Springs Arts Festival opens the second show of the season, 'the Classic', with internationally acclaimed Master Sculptress, Felicia, as Featured Artist.
A nationally noted, award winning sculptress, specializing in miniature to monumental work, Felicia's portraiture and figurative Southwest manner demonstrate the uniqueness of her elegant, recognizable style. Felicia's bronzes depict Native American women, children and unique vessels with the spirit of the mystic and timeless American Southwest. A member of the National Association of Women Artists, her public works include a life-size bronze fountain of the Cahuilla Indians for La Quinta, California, commissioned June 2002, as well as figurative works for the Beaver Creek, Colorado market square.
The Palm Springs Arts Festival team has again brought together a dazzling group of artists. To disclose a few:

LaChausseé Blown Art Glass - Whether it's glass as functional work, or something with a whimsical point of view, Dan and Joi LaChausseé create glass that is unique and beautiful. Decorative, fluid shell shapes with vibrant colors, structured sconces to illuminate a home, or plates that bring to mind fire and ice. "Every creation is unique and made by us in our original designs. The result we hope to accomplish is an art form that will make a lasting statement in any home."
Charles Sherman Sculpture - Many Coachella Valley residents and visitors have seen one of Charles Sherman's current pieces and not even realized it. One of his "Infinity Rings" is located in the meridian on El Paseo west of Portola in Palm Desert, California. Much of Charles' recent work is based on the Mobius strip; a surface with only one side. A model can easily be created by taking a paper strip and giving it a half-twist, and then joining the ends of the strip together to form a loop. If you then follow your finger around any one plane or edge, you will complete the circle, ending where you started without crossing any boundary. Charles has taken this to another level, developing a method of creating hollow, twisted rings with the same properties.
Michael Logan Plein Air Art - Michael Logan is rejoining Palm Springs Arts Festival. Michael has traveled and painted all over the world from his home base in southern California to Puget Sound, to Mexico, South America and Europe, capturing bright colored fishing ports in Spain, ancient vineyards in Italy, and the lush countryside of France. His paintings are strong, clean, capturing a moment in time.
On January 21-23, 2011, at the Festival Grounds in Palm Springs, artists, including those above, will display a wide variety of both fine art and quality craft offering every level of art lover the perfect opportunity to begin or to add to a collection and meet the works' creator. Featuring contemporary watercolor and oil paintings to Southwestern pottery and images, Navajo and custom jewelry to monumental sculpture and wildly colored glass art to photography and much, much more to dazzle your eyes!
Come early for the Palm Springs Lions Club's "Famous" Pancake Breakfast on Saturday or Sunday starting at 7:00am.
Relax in the Beer and Wine Garden presented by the Palm Springs Lions Club while enjoying a variety of vintage music. Recording stars, Family Evaro, Palm Spring High alumni and honorees of a Star on the Palm Spring Walk of Stars, along with others, will entertain each day. To ensure that you have the energy to see all the artists, unique delectable food and drink are available in the food court.
All are welcome. Admission to the Festival is $5 for adults; under 18 and active Military are FREE! Parking is FREE! The venue is handicapped accessible, however, only Service Dogs are allowed.
Palm Springs Arts Festival invites you to join with our other sponsors and community partners to benefit Desert Cancer Foundation, and several civic and educational organizations through partnerships and networking.
We also wish to thank our Community Partners: Riviera Palm Springs, Palm Springs Cruisin' Association, Evaro Family, Frances Cummings, Palm Springs Lions Club, and Yucca Valley High School Visual and Performing Arts Department.
About Palm Springs Arts Festival: Palm Springs Arts Festival (PSAF) is a group of art enthusiast professionals with years of event production experience seeking to provide Palm Springs, and the surrounding Desert Resort Communities, with the highest quality arts and entertainment experience. PSAF works with many local businesses and civic organizations to promote Palm Springs and to support both local civic and charitable organizations. For more information about our festivals please go to http://PalmSpringsArtsFestival.com.
# # #