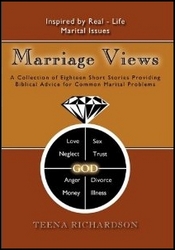 The purpose of 'Marriage Views' is to jumpstart a dialogue between married couples. As the author, I want readers to feel as if they are a fly on the wall listening and observing another married couple deal with conflict.
Orlando, FL (PRWEB) February 1, 2011
Inspired by real-life issues, these stories provide insight into a variety of different marital situations. The format of the book allows readers to become as if they were a fly on wall, listening and observing other married couples deal with a variety of different conflicts. Some of the conflicts discussed are: sex, money, infidelity, disrespect, love, trust, in-laws and much more. In the story, "And the Academy Award Goes To," Randy and Debra appear to be the perfect couple, but in private, their relationship is fraught with violence. Money problems plague newlywed couple Calvin and Rita in the story "I Got Mine, You Got Yours." In "Outside Children Inside Our Marriage," Candace and James deal with the effects of adultery.
Marriage Views is a compilation of the author's marital experiences and pieces of many other marriages. Richardson jumpstarts a desperately needed dialogue amongst spouses and offers biblical advice as a guide and encouragement to keep marriages the way God would want them — everlasting.
Marriage Views (published by iUniverse). offers a collection of short stories centered on various marital problems. It is being released in the U.S in paperback, hardcover, and e-book formats. All formats are available at iUniverse.com. The soft and hard covers are currently available on Amazon.com, Barnes&Noble.com, Borders.com, BooksAMillion.com, as well as other retail channels.
About the Author
Teena Richardson, an author and motivational speaker, she found herself speaking at events and becoming a strong advocate for successful marriages after her first marriage ended in divorce. Dedicated to helping marriages, and determined to jumpstart a dialogue, her prayer is that this collection of short stories can be utilized as a tool to encourage couples to read and discuss the real issues that marriages are facing today. She lives in Orange County, Florida with her husband and two daughters.
###