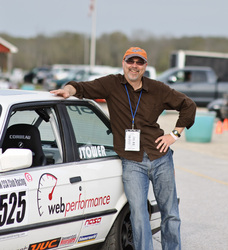 This talk is a blast to give, and is based on my years of experience dealing with difficult clients. I'll show how to use math to take non-sensical customer requirements and turn them into something you can actually test.
Durham, NC (PRWEB) February 10, 2011
Load testing expert and Web Performance, Inc. founder Michael Czeiszperger will present Wishful Thinking and Poor Planning: Load Testing in the Real World at the Software Test Professionals Conference in Nashville, TN. The conference is produced and managed by the Software Test Professionals association and will be held March 22-24 at the Gaylord Opryland.
Attendees will include software test professionals who are dedicated to improving their industry. They will gather at this dynamic conference to attend high-level sessions and keynote presentations to learn about the latest technologies and strategies for contact centers.
Czeiszperger started Web Performance to provide a direct connection between performance engineers and the front-line testers, programmers, systems administrators, and architects creating high capacity web-based applications. The engineering focus comes through in everything they do, from publicly available research on the performance of popular web technologies, to how-to articles, to software that uses the latest performance technology and yet is still fun to use. Their engineers work with testing teams all over the world to improve the performance of major websites for the governments of the United States, Canada, and France, non-profits such as the New York Marathon and dozens of universities, as well as major corporations in every market segment.
More information about the conference can be found at http://www.stpcon.com.
###