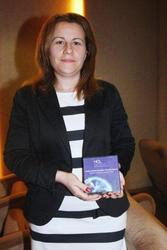 (PRWeb UK) February 2, 2011
HCL International, the leading global health and social care staffing company, was pleased to support the next generation of nurse leaders by presenting awards to high achieving students at the Portuguese Catholic University's School of Nursing last month. The company's aim is to promote the standing of the nursing profession globally and thus enable the next generation of nurse leaders to share best practice and ideas for innovation with their peers around the world.
HCL International has significant operations in Portugal; over the past five years the company has helped Portuguese nurses find jobs in their own country and in leading private and public sector hospitals across the world. The company also enjoys a long-standing professional relationship with the Portuguese Catholic University, one of the country's leading higher education establishments, well known for the rigorous academic and clinical standards of its nursing degrees. Each year the company gives awards to top nursing students undertaking Master's degrees, and to high-achieving students in the final year of their Bachelor degree in nursing.
The awards – EUR 3,000 to the Master's students, and an all-expenses paid trip to London for the Bachelor degree students - are awarded to students who demonstrate academic excellence, innovation and scientific rigour. This year, the winner of the Master's award is Noélia Cristina Rodrigues Pimenta Gomes, while Alexandra Fernandes Feliciano Bento and Patrícia Andreia Pimenta de Castro Martins, took the award in the Bachelors category.
Representatives of HCL International presented the students with their awards and prizes at their graduation ceremony at the Portuguese Catholic University in Lisbon on 20 January 2010.
Mick Whitley, Managing Director of HCL International, said:
"Nursing is one of the most important professions, and increasingly, nurses now form a global community. They are uniquely placed to drive innovation in patient care by sharing ideas about best practice and skills with their colleagues across the world. Our aim in supporting high achieving students at Catholic University is to recognise and encourage the pioneering spirit in the nursing profession that began with Florence Nightingale and is still very much alive today. We want all nurses, wherever they live, to be proud of their profession and to be aware of the skills-enhancing and career opportunities that are open to them all around the world."
Contact:
Helen Tarbet
helen(dot)tarbet(at)hclplc(dot)com
44 (0) 207 451 1451
# # #