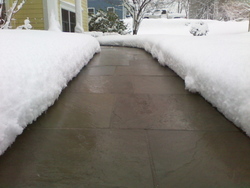 "Seldom do we ever receive complaints from our customers, only regrets from those who recently poured a driveway without adding one of our heating systems."
Salt Lake City, UT (PRWEB) February 8, 2011
WARMZONE was mentioned this winter season by The Wall Street Journal in an article entitled, "The New Cold Warrior" for its popular heated driveway systems. Interestingly, due to the above average snowfall and low temperatures even new slang terms have emerged like 'Snowpocalypse' to describe this winter. Even the Super Bowl in Dallas Texas was tormented with snow days before the game.
With 76 million aging baby boomers the interest in alternative solutions for snow removal is becoming a popular topic. Many boomers are aware that shoveling snow in winter temperatures can pose a higher risk for heart attacks or sudden cardiac death. Their quest for convenience and safety are being solved from Warmzone, a national engineering firm and distributor for radiant heating systems.
Heated driveways are popular this winter because they offer an automated solution to keeping walkways, stairs and driveways free of hazardous snow and ice. Electric cables or water based boiler systems create a grid of heating coils that gently warm concrete, asphalt or brick pavers above freezing to eliminate snow or ice.
Web search interest for the term heated driveway has more than doubled from last year according to Google Insights for Search. Warmzone has cooperated with The Wall Street Journal, Good Morning America and the DIY Network this winter to help educate their viewers about the convenience and safety their snow melting systems offer.
In addition to the residential demand for heated driveways, Warmzone reports that other high use areas for pedestrians are now installing these snow melting systems. Sidewalks and entryways to business, church and school buildings are important areas to heat and avoid costly slip and falls. "Seldom do we ever receive complaints from our customers, only regrets from those who recently poured a driveway without adding one of our heating systems." quips, Matt Carter a design and sales consultant at Warmzone.
A key feature to these snow melting systems is automation. Embedded surface sensors or an aerial mounted device are built-in to detect freezing temperatures and precipitation. When these two factors define inclement weather the heating system is activated and then ordered to shut down after the storm ends to make sure the area to walk or drive is safe.
Operational costs are lower than expected. For an average driveway of 600 square feet you will pay about $2.00/hour based on the national average for electrical power. On average a heated driveway system runs between 4 to 6 hours per storm. The electric heating systems are deliver efficient heat to a given area and then are turned completely off with no standby operations to run up your bill.
About WARMZONE:
Warmzone is based in Salt Lake City, Utah. Warmzone designs and sells both electric radiant heat and hydronic snow melting systems. They provide homeowners and contractors recommendations for radiant heat projects. With established online technology and a knowledgeable staff of in-house engineers, Warmzone supplies value and comfort to their customers.
###