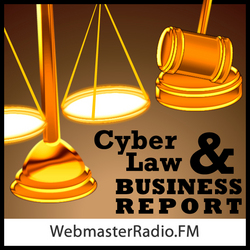 Cyber Law and Business Report
Fort Lauderdale, FL (PRWEB) February 9, 2011
Join us live at 1pm Eastern/10am Pacific , and same day on demand for the " Cyber Law and Business Report", hosted by Bennet Kelly of the Internet Law Center on http://WebmasterRadio.FM the world's largest online radio network for the B2B marketplace.
"Cyber Law and Business Report", WebmasterRadio.FM's newest radio series, focuses on covering the latest internet legal and business issues. The show has quickly gained traffic becoming one of the hottest new legal shows on web radio.
On today's live broadcast, Bennet will be joined by Jillian York, project coordinator of the OpenNet Initiative for the Berkman Center for the Internet and Society and a leading authority on the role of the Internet in the Middle East and North Africa. Jillian will discuss the latest developments in Egypt and Tunisia and the role of the Internet in the groundswell in both movements.
Also scheduled to appear will be David Belson, Director of Marketing Intelligence at Akamai Technologies, to discuss Akamai's latest State of the Internet Report. The report provides a valuable snapshot of internet and broadband penetration and speeds in the US and worldwide, while also identifying the sources of internet attacks. Find out what states are zipping ahead and where the US stands in the world rankings.
Listeners are able to interact with their questions and comments to the host and guests for each interview, as well as all live WebmasterRadio.FM programming, by:

The "Cyberlaw and Business Report" airs every Wednesday at 1pm Eastern / 10am Pacific on http://www.WebmasterRadio.FM. Episodes are archived on WebmasterRadio.FM, as well as on iTunes and other premier podcast portals.
About WebmasterRadio.FM
WebmasterRadio.FM lifts the "veiled curtain" of the Internet, bringing the business community together through an interactive radio network. Its listeners are a global group, comprised of everyone from corporate executives and decision makers to small and mid-sized businesses and individual entrepreneurs. WebmasterRadio.FM's stellar line-up of radio programming includes "CoverStory" with Meg Walker Robinson of PRWeb, WebmasterRadio.FM's official newswire; "Market Edge" with W2/Racepoint Group Chairman Larry Weber and "SEM Synergy" with Search Engine Marketing Industry Leader Bruce Clay. To tune into WebmasterRadio.FM's live content or check out the show lineup, please visit http://www.WebmasterRadio.FM.
Media Contact:
Brandy Shapiro-Babin
954-309-5578
###