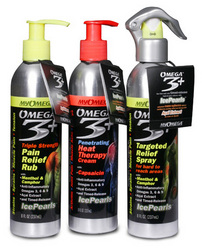 How did nanotechnology and and nature's best anti-inflammation and pain relief ingredients come together? In a new topical pain relief product with a deep penetrating high-tech delivery system of natural ingredients. MyOmega 3. It's a natural.
Chicago, IL (PRWEB) February 10, 2011
In 2010, advanced nanotechnology and nature's best anti-inflammatory and pain relief ingredients came together in the new Concept Laboratories MyOmega product line? It's a natural pain relief solution that utilizes deep penetrating nano-particles to deliver powerful natural ingredients directly to local pain areas. Each Naonsphere within the Icepearls nano-delievery-system delivers timed-release nanosphere particals of proven natural pain relievers directly to the local pain site. Review product features at: http://www.goutpain.ultimizer.com/MYOfeatures.html.
How did the pain relief breakthrough come about? A team of in-house chemists at Concept Laboratories discovered that the effects of natural topical pain relievers are substantially improved by timed-release nanotech delivery system of embedded Icepearls. The chemists also found that a carrier base of Omega oils improves the deep tissue performance of natural pain relief ingredients such as capsaicin and menthol. The result? MyOmega 3 became the hot, new, ingredient delivery system for FDA-approved ingredients like Menthol, Camphor and Capsaicin. The drug free, topical pain treatment system offers a balanced blend of hot and cool acting ingredients for easy pain management even with chronic pain conditions such as fibromyalgia and arthritis or even serious gout pain flares.
Each nanosphere within the Icepearls system has a designed-in release time. Some nanospheres are activated immediately when a MyOmega 3 is applied to a target pain area which immediately releases a complex of pain relief ingredients. Other nanospheres are encapsulated within microspheres which have individualized release barriers of varying thicknesses. As the time-based barriers dissolve, new pain relief ingredients are released into the target pain area. The process is continual and fully effective for up to 6 hours. http://www.goutpain.ultimizer.com/MyOmegaTherapy.htm
In the Fall of 2010, a gout medical study exposed the negative effect of fructose-rich drinks in the Journal of the American Medical Association.
The 22-year Nurses' health Study on gout--a painful type of inflammatory arthritis--analyzed 78, 906 women who had no history of gout when the study began. Over a two decade test period, 778 (.09 %) of the women were diagnosed with gout. The percentage is a little higher than previously thought to be the average but the stunning test result was found in the effect high fructose-rich drinks had on the test participants. Compared with women who consumed less than one serving of sugar-sweetened soda per month, women who consumed one serving per day were 74% more likely to develop gout and those who consumed two or more servings per day had a 2.4 times higher risk.
So, what in the world happened to convert a typical man's disease into a woman's pain condition. The rise in women's gout coincided with a large increase in soda and fructose consumption across the country. MyOmega wants to help ease the problem by educating people about the value of understanding the pain relief diet turf while treating pain conditions. After all, it's only natural to treat the causes of pain conditions while treating acute pain areas with MyOmega.
In 2011, MyOmega 3 became a leading edge treatment for acute pain flares and chronic pain conditions. Now it's available direct from the laboratory to the consumer. MyOmega offers 2 types of pain relief products for deep penetrating topical treatment of chronic pain conditions and acute injuries. Each product features the MyOmega breakthrough timed-release nanotechnology.
1. Penetrating Heat Therapy Cream is a Capsaicin-based cream that is especially effective for arthritis and deep muscle pain. Capsaicin has been scientifically and clinically shown to gradually deplete Substance P, the chemical in the body that creates the sensation of localized pain. Unlike oral pain relievers, which often lead to an increased tolerance to the treatment, Capsaicin is the only pain-relieving agent that actually works better over time and aids long-term healing. Learn about herbal ingredients at http://www.myomegaplus.com/MYOingredients.html
2. In addition to the Capsaicin-based formula, Concept Labs also developed a Menthol and Camphor-based formula with two different application methods: a Triple Strength Pain Relief Rub and a Targeted Relief Spray. The nano-encapsulated spray is useful for pain sufferers who are unable to reach painful areas such as their back or feet or for untouchable gout pain areas. The MyOmega formula includes Omegas 3, 6 and 9, derived from the Brazilian Açai berry, which provide a silky, luxurious feeling and a high level of antioxidants.
MyOmega timed-release nanotechnology provides cooling relief that helps relieve gout and fibromyalgia pain spikes as well as Lupus downs. The menthol/camphor/omega based rub and spray works all through the night to provide a relaxing sleep aid that helps you wake refreshed. Capsaicin has been laboratory and clinically proven to help heal inflammation and damage in arthritic joints. Timed-release capsaicin is even better when combined with powerful omegas. A continual six hour release of Nano-Icepearl pain relief particles provide deep penetrating pain relief that actively attacks inflammation and helps repair inflammed pain areas. MyOmega Heat Therapy Cream provides long-action pain relief for topical treatment of arthritis and acute injury pain.
For more information on MyOmega brand and products review: http://www.goutpain.ultimizer.com/MYOorder.html
For information on Concept Laboratories, bulk purchases, executive interviews, b2b laboratory services and private labeling, please call Mike Fleming at 866.312.7744
###