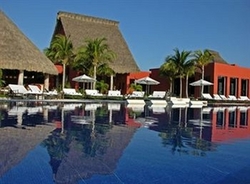 We respect the value of our clients' time and our coaching approach is direct, unvarnished and productive.
Tulsa, OK (PRWEB) February 11, 2011
CDR Assessment Group, Inc., a global executive assessment and development firm is hosting an Executive Development Retreat at Zoëtry - Paraiso de la Bonita, a Wellness & Spa Resort in Puerto Morelos, Mexico from July 7 -12, 2011. The retreat is designed for those executives wanting to rev up their personal energy, refocus, and renew their performance edge.
According to CDR's President, Nancy Parsons, "The location was selected in response to client suggestions that a relaxing tropical setting is ideal for the type of deep introspection and personal development we provide. The Retreat offers a holistic approach to executive development including in-depth assessment, one-to-one coaching sessions, strategic leadership workshops, action planning, fitness or a health risk consultation, and a memorable spa experience." Parsons adds, "Then, of course, executives and their guests will find much more to do to rejuvenate at Zoëtry, a luxurious all-inclusive boutique resort set on the Riviera Maya. It has a private beach and is just 20 minutes from Cancun's International Airport."
"Do not mistake this Retreat as unchallenging or as 'a fluff training event,'" asserts Parsons, "because of the assessments we begin with, our coaches are able to cut to the chase with straightforward, hard hitting and practical insights to fast forward the development process. At the first coaching session, each CDR executive coach will get to the root causes of their client executive's performance behaviors, talents, skills, motivational needs, and risk factors. We respect the value of our clients' time and our coaching approach is direct, unvarnished and productive."
"The work begins before the retreat, so that it isn't all work and no play when at Zoëtry. Getting started is easy – executives register by March 4th and then simply take the CDR 3-D Suite online and have their initial executive coaching session by telephone. Then, it's off to the Retreat on July 7th for a mix of half day workshops, one-to-one coaching, and time to revitalize, refresh and reenergize," Parsons explains. "In fact, the Zoëtry 'Spa Experience' (included in this package) features a sunset couple's massage, a thalassotherapy hydro massage, and a reflexology treatment, and more."
Because of the personalized attention and onsite coaching sessions scheduled for each executive, space is limited. The registration deposit deadline is March 4, 2011. The retreat brochure, FAQs and a registration form can be found at: http://www.cdrassessmentgroup.com/retreat.php
Call Registrar, Rebekah Garrett at 918-488-0722 for more information.
###