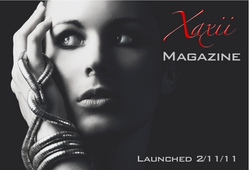 Finally, a magazine written for the fashion lovers, by the fashion lovers!
Chicago, IL (PRWEB) February 11, 2011
Xaxii is pleased to announce the addition of an online magazine - Xaxii Magazine- to its growing list of solutions for those involved and interested in the fashion, beauty and lifestyle industries. Centered on providing exposure to the most progressive and forward-thinking of emerging talent in these industries,Xaxii Magazine provides a viable alternative to major fashion media which rely heavily on the similar subject material, designers, photographers, news and models across the board.
Current online and print magazines focused on the fashion, beauty and lifestyles industries are well-known but lack the breadth to extend beyond the stars of the industry-- designers, models and other creative professionals who are already a household name. Though these moguls of their respective field are talented, the lack of variety and attention given to emerging talent creates a long-standing void in fashion, beauty and lifestyle media. Lacking exposure, this talent often goes undiscovered and the most cutting-edge of creative thinking remains beneath the surface of industry consciousness.
Media is not the only area in which emerging talent has difficulty gaining exposure. Becoming a household name in fashion is not only difficult but expensive, requiring crucial connections and a large amount of capital to break into the field and thrive. Though fashion weeks and shows have become staples of the industry, these events are infrequent and centered highly on local, highly visible designers and models. Internationally reaching showcases in major fashion hubs are both expensive and nearly impossible to break into on one's own--in short, the obstacles to widespread exposure are great, and few tools have existed to overcome them.
As a step in a new direction, Xaxii's online magazine is focused on exposing the emerging and undiscovered designers, models, photographers, manufacturers, and other industry players on a worldwide level. The magazine's audience is on the same platform as the publication itself, making exposure easily accessible. Offered at no cost, both readers and featured talent gain industry knowledge and connections without the usually expensive media resources. Featuring recent discussions from the website's forum, Town Hall, and top-rated photos from the realtime photography feedback tool, Catwalk, the magazine multiplies impact from a variety of sources to create unparalleled cross-referencing and acknowledgment within a highly involved community. Fast-growing and international, the Xaxii community is both constructively critical and supportive, knowledgeable and experimental, and most of all, an ever-expanding watering hole of global fashion talent.
Unlike many social media sites, Xaxii has the intention of uniting like-minded fashion entrepreneurs and consumers with technology developed specifically for their interests and skills. Due to its focused and forward-thinking nature, Xaxii provides a missing link in the current industry chain to provide never-before-seen exposure, communication, collaboration and feedback to members.
As it launches, the online magazine is another crucial industry tool designed specifically with Xaxii's community in mind. The results of this forward-thinking development are numerous and impressive--utilizing the tools developed by the Xaxii team, members gain invaluable exposure, encourage progressive fashion conversation and action, and collaborate in ways never before possible with any other social networking site. The specific focus and goals of Xaxii set it apart from other interactive tools or media publications currently available to anyone involved in fashion, and these are the cornerstones for breaking through the roadblocks of the industry and changing fashion interaction as we know it.
###