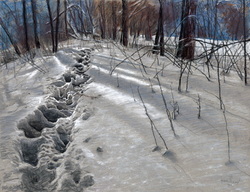 "Clearly what springs to mind when viewing Gross-Brown's striking scene, is the presence of human intervention. The footsteps lead the viewer on a journey of exploration into this enchanting winter landscape." - Greg Biolchini, P.S.A., Master, Juror
Rocky River, OH (PRWEB) February 15, 2011
In a truly challenging task, sought-after instructor and experienced international juror, Greg Biolchini, P.S.A., Master, selected eight paintings from an overwhelming number of entries coming in from eleven countries for the International Art Search 2011 Painting and Drawing Competition. Linda Gross Brown's painting, "Footsteps," was one of the honored eight paintings. Even more, three more of her works were ranked in the Top 100 of the competition.
"Originality combined with cohesive design and skilled use of the medium" are Biolchini's guidelines for judging the artistic merit of pieces coming under the jury, and Linda's paintings did not disappoint under those strict standards. They shone. While she is thrilled with the outcome of this competition and the international spotlight it keeps on her artwork, it more importantly confirms yet again that not only does her talent and her unique perspective stand up against the masters worldwide, it stands out. Linda Gross Brown was awarded the "Master Pastelist" title and medallion last summer by the International Association of Pastel Societies (IAPS) because of her outstanding artworks in the pastel medium. Linda continues to not only live up to but to exceed the expectations put on one who is in such an exclusive group of masters.
Her subject is very unique and special to not only her audience but to Linda herself. "Somewhere there is a special place, a place of solitude and healing, peace and introspection. This is what I replicate for the viewer in my work. By harnessing the energies that exist within the four boundaries of the picture frame, and with careful manipulation of tone, color, value and subject, a landscape evolves with a special luminescence that invites the viewer to wander along a predetermined pathway through the work," states Linda. Her special perspective and treatment of a landscape paired with her impressive skill in the pastel medium defies language or cultural difference - her artwork leaves a spell on anyone who sees it.
This will only be the beginning of Gross Brown's accomplishments overseas this year as she prepares to participate in several 2011 European exhibitions.
###