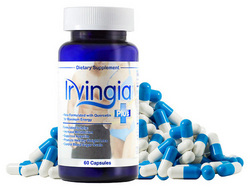 a miracle in your medicine cabinet.
Los Angeles, CA (PRWEB) February 15, 2011
Still trying to lose those holiday pounds? With the public's 'New Year, New You' perpetual mindset at this time each year, it's hard to turn away from a good weight loss secret - particularly when it comes in two words sure to put lots of rhythm in one's middle section: Try 'Irvingia Gabonensis' on for size, or as brought to you by Delite Products, Inc., and much easier to swallow, the Irvingia Plus Weight Loss Supplements. Stemming, literally, from the African Mango with its own tree - and just as it sounds, make that in West Africa - the good news is one won't have to climb some far off tree just to get their African Mango on (aka, the 'obesity killer,' among those in the know). As now facilitated through one of the country's leading Irvingia Gabonensis providers, and following the pulse of what truly works according to Dr. Oz, the Invingia Plus Weight Loss Supplements make one's weight loss journey a piece of cake (figuratively speaking, of course). These special supplements have been formulated to meet the growing demand for having, as Dr. Oz has eloquently described, "a miracle in your medicine cabinet." Demonstrating the weight loss benefits, Dr. Oz has repeatedly gone public, both on his television show, "The Dr. Oz Show," and elsewhere, touting the breakthrough physical effects of this 'super fiber' - further suggesting an African Mango regimen of twice-daily to help lose a good 10-20 pounds.
Native to West Africa, Irvingia Gabonensis is a tree bearing the quintessential fruit, weight loss 'manna' in the form of the African Mango where its seeds are used to make medicine or, in this case, the easily accessible Invingia Plus Weight Loss Supplements. Why all the interest and praise on using these supplements? Next to containing the widely endorsed Irvingia Gabonensis for its proven weight loss effects, it also lowers cholesterol levels in the body and helps to improve the control of diabetes - primarily due to the seeds' high fiber content. Further research suggests these 'super seeds' essentially help to reduce fat cell growth while increasing the breakdown of fats.
Rising in demand, it is easy to understand why Invingia Plus has enjoyed spiked growth as a result of its uniquely formulated pills - catering to a new breed of connoisseurs who are keen on following the highly prescribed African Mango weight loss plan.
Why Dr. Oz Promotes Irvingia Gabonensis, the African Mango Extract, on his show:
Continuing to explore alternative medicine on his show, Dr. Oz began his dialogue about Irvingia Gabonensis by featuring the breakthrough ingredient as part of a special segment where the good doctor proclaimed its nutrients to be one of the 'three must-have vitamins' for supporting weight loss (with the other two-of-three vitamins being Vitamin B and Vitamin E, complementary to the African Mango).
Dr. Oz further claims the biggest reason why Irvingia Gabonensis works is because it reduces the appetite by increasing the amount of leptin in the bloodstream. Leptin is the chemical used to signal to the brain that one is hungry or not hungry (whereas increased Leptin, without ingesting any calories, tells the brain that one is not hungry). This is where weight loss is achieved. Enter the Irvingia Plus Weight Loss Supplements for maximizing that reach.
Straight from today's headlines… WHAT PEOPLE ARE SAYING ABOUT THE AFRICAN MANGO:
African Mango Sheds Pounds, Lowers Cholesterol
"African Mango helps overweight people safely and quickly shed pounds, lose belly fat, and lower their cholesterol."
FOX NEWS CHANNEL
"It's the best natural fat-loss remedy I've come across in 25 years of research."
David Jeffery (Editor, Body-for-LIFE)
Next to its weight loss effects, Irvingia Gabonensis is widely becoming recognized for its conversion of carbohydrates into energy, and increased energy levels - also found to be enjoyed through the Irvingia Plus Weight Loss Supplements. This is particularly the case for a lot of people who are looking to lose 10-20 pounds in a safe and healthy way.
Realizing the many benefits of Irvingia Plus, many users have found it possible to lose several pounds on these astonishing pills, without changing their diet. The Irvingia Gabonensis key ingredient works - as Dr. Oz would call it, like a miracle - in the way it uses starches in carbohydrates to convert into energy. This is how one can continue to eat and have their food turned into energy, thus losing weight. Imagine how the Irvingia Plus Weight Loss Supplements will further impact a workout routine. As part of its select weight loss tropical blend, next to the Irvingia Gabonensis (or African Mango extract), the Irvingia Plus 'main frame' also consists of Quercetin, Green Tea, Acai Berry, and other complementary fat melting ingredients - together helping to promote weight loss while also enhancing energy. A recipe for achieving one's ultimate desired main frame? Read more about how people lost unwanted pounds with the Irvingia Plus Weight Loss Supplements at: http://www.IrvingiaWeightLossPills.com.
A prime example, if not a fine specimen to reflect and stand by his company's product, Irvingia Plus, check out Delite Products' president, Kyle Winther, in a revealing video and draw your own conclusions about the effects of the weight loss supplements…
ALERT:
No need to adjust your screen, although Winther has been compared to Bradley Cooper/Matthew / McConaughey in previous sightings --
http://www.youtube.com/watch?v=CQSP4Xo5ico
"For all the people who are sick of dieting, the Irvingia Plus Weight Loss Supplements are for you," states Winther. "There is no need to try a thousand more diets, and dozens of workout programs that simply don't work." Considered to be the new cutting edge medical technology in the weight loss industry, "We are happy to offer Irvingia Plus and take great pride in the value we bring… plus having risen as one of the hottest weight loss supplements should speak for itself," adds Lori Winther, Executive Vice President of Delite Products, Inc.
Between the son/mother partner team, it's hard to miss their dedication and commitment to formulating the unique Irvningia Plus with some of the most prominent weight loss ingredients available on the market today - accent on Irvingia Gabonensis (the African Mango).
More on the African Mango Making News
~ As Seen in US Weekly and People ~
According to a Harris Poll survey, 58% of Americans have made serious efforts to lose weight, however without results. All the more reason and impetus behind the successful Irvingia Plus Weight Loss Supplements, continuing to satisfy a heated demand for a weight loss solution that works. These supplements are safe, natural, and clinically-proven to shed pounds. Plus, following the Harris Poll, these amazing pills appear to be just what the doctor ordered - certainly enough to get one's African Mangos in a twist of weight loss fate.
The Top 6 Reasons Why Irvingia Plus Works as Today's Top-Selling Weight Loss Solution:

Breaks down fat cells
Increases metabolism
Reduces carbohydrate absorbtion
Speeds weight loss
Reduces belly fat
Nourishes overall health
No arguing with the African Mango science. In sight of recently published research, the Irvingia Gabonensis extract was shown to have beneficial effects on a variety of metabolic targets involved in carbohydrate metabolism - as featured in Lance Armstrong's Magazine, LIVE STRONG:
The Irvingia Gabonensis extract is used medicinally by most tropical Africans and particularly as a 'natural weight loss pill,' according to nutrition expert Dr. Ray Sahelian. "Irvingia Gabonensis is thought to promote weight loss by reducing body fat production through genes and enzymes that regulate metabolism," says Sahelian. A study at the University of Yaounde in Cameroon, observed the effects of Irvingia Gabonensis on 102 obese adults. The study subjects took either 150 mg of the fruit extract or a placebo two times daily for 10 weeks. Those given the Irvingia Gabonensis extract lost on average about 12 kg and exhibited a significant decrease in body weight, body fat and waist circumference when compared to the placebo group.
As the research continues to be encouraging, there is no doubt what the fuss is all about and why Dr. Oz and countless medical peers, including the mounting media attention, are turning to the African Mango - and the popular selling derivative supplements, U.S. based Irvingia Plus, as the must-have weight loss solution of our time. Prized for its healing properties, the African Mango has become one of the most sought after and exciting discoveries in the weight loss industry.
REUTERS HEALTH on IRVINGIA GABONENSIS
"Fruit Extract Shows Promise as Weight Loss Aid!"
The next time you wonder about this 'miracle weight loss solution,' Irvingia Gabonensis, and you are looking to try the much touted African Mango extract, do not hesitate to check out http://www.IrvingiaWeightLossPills.com for more information. Also download the FREE report, "The Ultimate Guide to Weight Loss," today! Compliments of Irvingia Plus, the future of weight loss supplements is here. Switch to Irvingia Plus and join the thousands of women and men who have transformed their bodies by losing weight this healthy and safe way. Now discover for yourself what everyone is talking about… discover the magic of IRVINGIA PLUS!
Tany Soussana
310-633-4455
tany(at)thesoussanagroup(dot)com
# # #