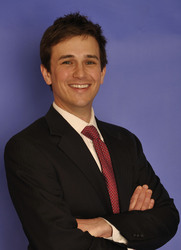 FIS' main goal is to create innovative and workable solutions for consumers' wealth accumulation, management and transfer needs
Kansas City, MO (PRWEB) February 17, 2011
Frontier Insurance Strategies (FIS), a division of Frontier Wealth Management of Kansas City, recently hired Brian Glick to enhance the solutions-based services they offer clients. Glick's expertise in developing wealth accumulation and transfer strategies using insurance solutions, combined with the full-service wealth management methodology FIS employs, creates expanded options for clients nationally. Glick will also build FIS' Disability Insurance market segment to further augment the holistic solutions they offer in designing needs-focused strategies for their clients.
"FIS' main goal is to create innovative and workable solutions for consumers' wealth accumulation, management and transfer needs," said Rob Hagg, President and Managing Partner of FIS. "Having comprehensive product knowledge and a firm grasp on the possible solutions is key in helping clients attain their goals. Brian is an insurance and financial professional who successfully merges his proven expertise in the field with his dedication to providing superior service. Adding him to our staff further strengthens our ability to design solutions that satisfy our clients' objectives and assist them in providing for future generations."
Glick brings a strong foundation of experience in Life and Disability insurance and the financial services field, having previously worked for a nationally recognized leader in the industry. Originally from Dallas, Texas, he and his family moved to the Kansas City area five years ago. He is a graduate of the University of Missouri.
Frontier Insurance Strategies provides a complete suite of insurance, wealth management and transfer options, including tax-efficient planning, legacy planning, Trust Owned Life Insurance, Irrevocable Life Insurance Trusts and Philanthropic solutions for individuals and businesses nationally. To learn more about FIS and their client-focused solutions, or request an appointment to discuss your options, call 816.753.5100 or visit http://www.frontierwealth.com.
About Frontier Insurance Strategies: A division of Frontier Wealth Management, LLC., a wealth management boutique, FIS focuses on serving the current and future insurance and wealth transfer needs of clients, family endowments, foundations and corporations. Employing a holistic approach that incorporates a turn-key asset management platform and strategic partnerships with CPAs and attorneys, FIS and Frontier Wealth Management work with clients to build and implement strategies that balance their financial goals with their risk tolerance. FIS is based in Kansas City, MO. For additional information, call 816.753.5100.
###