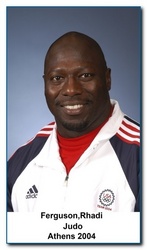 As an Olympian, I recognize the need to push through tangible and intangible obstacles which life presents
Boca Raton, FL and Coronado, CA (PRWEB) February 21, 2011
As part of the Navy's effort to attract top minority talent, all 13 members of the CIAA—the nation's oldest black athletic conference, established in 1912—have agreed to participate in the "Mental Toughness, Never Quit" campaign.
The training will occur during on-campus "Mental Toughness" seminars this month and in March at each school, as well as follow-up "Mental Toughness" conditioning and team-building events at the Little Creek Naval Amphibious Base in Virginia Beach, Va. The base events will take place during spring football camp, a time in which the teams assess their talent and provide conditioning for the upcoming fall season.
The SEALs will provide players with a unique look into how mental preparedness is essential to winning.
One of the key facilitators of the program is 2004 Olympian and undefeated Strikeforce Mixed Martial Arts Fighter, and World Class Strength and Conditioning Coach, Rhadi Ferguson.
Dr. Ferguson has a compelling story and intriguing background which brings and interesting element to the Mental Toughness training seminar series. As a graduate from a Historically Black College (Howard University) and an exemplar in academia and sport, Dr. Rhadi Ferguson exemplifies what mental toughness is all about.
One of Dr. Ferguson's Olympic Teammates is CIAA track and field coach and living legend, George Williams. When asked about the program Mr. Williams said, "I am excited that the Navy SEALs and the athletic directors of the CIAA have joined this mutually beneficial effort to share mental-toughness skills with the members of the CIAA," George Williams, athletic director at St. Augustine's College, a CIAA school, said. "From my 38 years of experience in the CIAA, and as the 2004 Head U.S. Olympic Track Coach, mental toughness is always key in developing success in athletics and life."
And Dr. Ferguson couldn't agree more. "As an Olympian, I recognize the need to push through tangible and intangible obstacles which life presents and which seem impossible to overcome. It is my desire and goal to provide a harmonious perspective to the student athletes as a graduate from a HBCU which will allow the message of Mental Toughness which the Navy Seals and I are delivering to have an even greater effect on the lives of the student athletes in the CIAA."
The goal of the program—which includes goal-setting, visualization, positive self-talk and emotional regulation skills—is to provide valuable training to athletes while exposing them to potential career opportunities within the SEAL Teams.
"We need a strong force of mentally tough, culturally-diverse SEALs," Cmdr. Brodes Hartley of the Navy SEALs said. "We need the broad spectrum of thought and perspective, and the cultural insights that come from that diversity, to keep us on the cutting edge as warriors."
CIAA/Navy SEALs seminar schedule
Bowie State University 7 p.m. Tuesday, Feb. 22
Chowan University 6 p.m. Wednesday, March 23
Elizabeth City State University 6 p.m. Wednesday, March 9
Fayetteville State University TBA
Johnson C. Smith University 6 p.m. Monday, March 14
Lincoln University of Pennsylvania TBA
Livingstone College TBA
St. Augustine's College 6 p.m. Tuesday, March 8
St. Paul's College 7 p.m. Thursday, Feb. 17
Shaw University TBA
Virginia State University 7 p.m. Tuesday, Feb. 15
Virginia Union 7 p.m. Wednesday, Feb. 16
Winston-Salem State University 6 p.m. Wednesday, March 16
Contact:
Dr. Rhadi Ferguson
info(at)rhadi(dot)com
(561)-929-8302
###