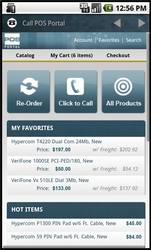 Sacramento, CA (PRWEB) February 23, 2011
POS Portal, a leading distributor of point-of-sale (POS) equipment and supplies, announced the launch of a new Android application that provides real-time access to pricing and availability from its online store (buy.posportal.com) for POS equipment, accessories and consumables. The free application is available in the Android Market under the name "POS Portal Mobile App" (download at: http://market.android.com/details?id=com.posportal.buyposportal).
The POS Portal Mobile App now works on both the major Smartphone operating systems – Android and iPhone. The iPhone version, available on the iTunes store, was formally launched last month.
A new feature of the App is instant access to product pricing including shipping right on the home screen. This calculation is done for any product the user has designated as a "favorite". This feature is available on both versions and also on the homepage of the store.
"Our customers are always on the move – specifically the merchant-level salesperson (MLS) who is often traveling to client locations or meeting with community partners," said Scott Agatep, VP of Product and Marketing for POS Portal. "When we launched the iPhone app a few weeks ago, we immediately started getting inquiries from our customers about an Android version."
The POS Portal Mobile App offers all the key functionality of POS Portal's online store with a user's preferences stored. It establishes a secure connection to POS Portal's servers, allowing customers to see daily "Hot Deals" and utilize all the stored payment or shipping options for mobile purchasing.
About POS Portal
POS Portal is a leading provider of just-in-time terminal sales, rental, and leasing solutions coupled with value added deployment services. The company's deployment and installed terminal asset management platform accessed both in a native user interface and via web services based application programming interfaces, provides real time pin point control of device configuration, fulfillment, returns management, and repair processes.
POS Portal provides fulfillment services from its facilities in Sacramento, California and Louisville, Kentucky. POS Portal's product offerings include standalone hosted software solutions including lead management, application processing, customer relationship management, and risk management. For more information, visit http://www.posportal.com.
###