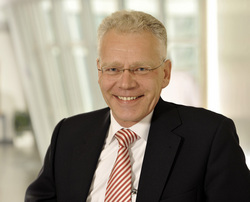 The innovation we present at the Hannover ComVac fair is the result of our work that is driven by listening to our customers
Antwerp, Belgium (PRWeb UK) February 24, 2011
Atlas Copco announced today that it will launch an array of new solutions at ComVac's trade show (at the Hannover Messe) which opens 4 April 2011. Key innovations include a high-speed, centrifugal compressor uniquely designed to offer record energy savings, a range of new ultra-efficient rotary drum dryers, innovative controller software (monitoring multiple compressors) and new oil-free scroll technology that increases installation flexibility. The Atlas Copco booth (Hall 26, stand B40) displays the latest innovations in Atlas Copco's product and service offering, featuring a complete in-house designed and integrated installation.
A complete, hands-on installation
For the first time at Hannover, customers will see a fully integrated installation laid out as it would be on a factory floor. This includes Atlas Copco's GA oil-injected screw compressor, air treatment equipment (new range of desiccant dryers boosting energy efficiency due to minimal pressure drop, optimized regeneration cycle and constant pressure dew point down to -70°C), the new ES6 controller (new software monitoring up to 6 compressors simultaneously and selecting the right compressor at any moment in production with online visualization), air receivers and a nitrogen generator. The installation demonstrates the smooth integration of all components, which contributes to increased productivity and reduced running costs.
An innovation success story
Atlas Copco's ZH 350+ oil-free high-speed drive centrifugal compressor is the result of intense R&D and will be launched at ComVac. It is designed for those pharmaceutical, electronics, aviation and automotive customers needing the highest compressor performance in terms of energy efficiency and reliability. This medium pressure industrial three-stage centrifugal compressor is the first to be commercialized with a high speed motor and without a gearbox. It offers outstanding energy savings as compared to conventional turbo compressors. The first units will be shipping in June.
New energy efficient MD/ND rotary drum dryers
Atlas Copco is extending the popular range of dryers offered with oil-free screw technology to the centrifugal (turbo) range, with the introduction of the new MD 2000 (which reaches dew points down to -25°C). MD dryers are characterised by no loss of compressed air, no freon, no filtration and no electrical heating requirements and they consume up to 120 Watt, or the equivalent of two light bulbs.
Additionally, an array of new energy efficient deep dew point rotary drum dryers will be introduced. These dryers can reach dew points down to -40°C. Visitors to the Atlas Copco booth will be able to inspect the economical ND 1800, which is compatible with screw compressors and can save up to 50% on the total dryer lifecycle cost as compared to conventional twin tower dryers.
Do-it-yourself nitrogen
Atlas Copco is among the few manufacturers delivering a complete nitrogen generation system designed and manufactured in-house. The NG nitrogen generator offers a reliable, cost-effective, on-site supply of nitrogen, with purity up to 99,999%. The machine forms part of the integrated installation at the booth.
Driving down energy costs
The oil-injected GA on display represents a range of oil-injected screw compressors that are the result of continuous improvements that boost productivity while driving down energy costs. Their state-of-the-art screw element improves the Free Air Delivery (FAD) by up to 8% when compared to the previous generation elements.
Further improvement in energy efficiency of GAs can be attributed to the R410A refrigerant dryer integrated across the full Atlas Copco oil-injected screw compressor range. Launched in June 2009, the dryer's direct power consumption has been reduced by 40%, even at full load (compared to the previous generation of Atlas Copco integrated dryers).
Oil-free leadership
A number of other recent innovations in oil-free technology will be on display, including the ZS+ VSD screw blower, which offers significant energy savings to pneumatic conveying and wastewater treatment plants with its conversion from the lobe design. The newest solutions for the medical and marine industries will also be at the booth.
The new oil-free scroll compressor SF 17-22 kW is the result of continuous innovation at Atlas Copco. In addition to ensuring higher availability to customers, the in-house production of scroll elements has allowed Atlas Copco to open new possibilities for customers with critical air quality requirements (hospitals, laboratories, breweries, pharmaceutical manufacturers and others). Consisting of a newly developed 5.5 kW scroll element in a multi core set-up, this flexible compressor can be upgraded to address increased air demand. Optimized cooling flow design, pressure drop and lower inlet air temperature result in increased reliability, FAD up to 51% higher and Specific Energy Requirement up to 6% lower compared to the previous scroll range.
Customer feedback key to success
"The innovation we present at the Hannover ComVac fair is the result of our work that is driven by listening to our customers," says Stephan Kuhn, President of Atlas Copco's Compressor Technique Business Area. "We welcome them to come and see how their feedback is translated into improvements in sustainable productivity, reliability and best in class solutions and services."
Atlas Copco's Compressor Technique business area develops, manufactures, markets, and services oil-free and oil-injected stationary air compressors, portable air compressors, gas and process compressors, turbo expanders, electric power generators, air treatment equipment and air management systems. It also offers specialty rental services. It innovates for superior productivity in applications such as manufacturing, construction, and the process industry worldwide. Principal product development and main manufacturing units are in Antwerp, Belgium. Learn more at http://www.atlascopco.com
Footnote to Editors:
A press conference is planned for 4 April 2011 at the Hannover Messe. Please contact Ellen Steck or the local Atlas Copco media spokesperson should you wish to be invited. The list of spokespersons is available on the Atlas Copco website http://www.airforwinners.com.
# # #