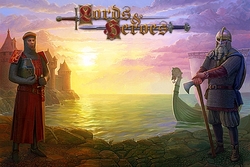 In Lords And Heroes players will be able to hire a range of servants and militia to aid them in battles.
(PRWEB) February 26, 2011
Lords And Heroes will boast a wide range of features not commonly seen in games on the iOS platform, including a fully traversable, highly detailed medieval fantasy world, a variety of environments and locations which players will be able to visit including: frosted arctic lands, lush, verdant plains and wild, craggy mountains. Combat will take place in a full 3D, real time play mode, be it PvP or PvE. Like any good MMO, Lords And Heroes will provide a variety of quests which will take characters far and wide across the continents of Aquilon and Norvgar, hunting fame, glory and treasures.
Players will have a choice of three factions - the noble Irmoran, the mysterious Westerwald and the brutal Nords. The factions fight ruthlessly for the resources across the world which they need to feed and arm their people. Players will be able to use the game's advanced reputation and achievement system to make their mark on the world as the conflict between the three escalates. PvE players can quest far and wide, searching for items and solving problems to assist their chosen faction. PvP players meanwhile will take to the field of combat against players from other factions. Whichever faction and play style they choose, players will not need to fight alone. In Lords And Heroes, they will be able to hire a range of servants and militia to aid them in however they choose to play through the game - be it adventuring or PvP.
Unlike in other MMOs, in Lords And Heroes players will not be permanently bound to the faction of their creation - at any time they can choose to leave and pursue their goals elsewhere.
Lords And Heroes will also offer a unique crafting system, not yet seen in any other RPG on the iOS platform. By tweaking the base 'recipe' of the item to be created with your own combination of materials, you can customize the final product to suit your character and play style. This means that the same item can have several variants.
Finally, Lords And Heroes will also take full advantage of the brilliant sound fidelity of Apple's mobile devices. The game will have an epic soundtrack by the "Cherny Kuznets" ("Blacksmith") featuring performers from the Saint Petersburg Academic Philharmonic Orchestra. This is one MMO which will be a treat for your eyes, brain and ears all at once.
# # #