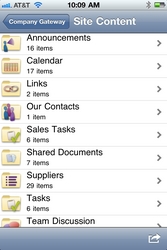 With Rover Apps, companies can now securely access behind-the-firewall SharePoint without the need for VPN and enjoy the benefits of on-the go business collaboration.
Roswell, GA (PRWEB) February 28, 2011
Enabling mobile access to Microsoft® SharePoint®, the world's most popular enterprise collaboration platform, Rover Apps announced today general availability of Rover's connector for SharePoint as an add-on to its Rover Gateway. Ideal for mobile users who require immediate access to critical business information and data, Rover's connector for SharePoint provides secure access to behind-the-firewall SharePoint data from users' smartphones and tablets.
"Collaboration is vital to any enterprise competing in a fast-paced environment, which is why so many have made SharePoint a central tool to enhancing productivity," said Jonathan Foulkes, CEO of Rover Apps. "By enabling mobile users to access and update SharePoint data while on-the-run, Rover is additionally empowering SharePoint users to enhance their collaborative processes and extend their enterprises."
With Rover's connector for SharePoint, mobile users will be able to perform an array of tasks previously accomplished via laptop or PC. While on-the-run, mobile users with smartphones and tablets will now be able to:

Work with information in custom lists, adding, editing or deleting records as needed
Capture and update information when it happens
Add and edit tasks on-the-run to keep teams operating efficiently
View, add and edit group calendar items so everyone is up-to-date
Search SharePoint and find exactly what you need when you need it
Peruse and post replies to SharePoint discussions to maintain the discussion flow
"Our early test accounts reported a significant increase in data currency, accuracy and use." said Mr. Foulkes, "When mobile users can access and update SharePoint data while in the field, it substantially increases the velocity of the enterprise and provides measurable improvements to productivity and customer responsiveness. By eliminating the need for pesky VPN while delivering tight security, accounts indicate it's ideal for the influx of iPads and employee-owned smartphones."
Companies interested in learning more about Rover's connector for SharePoint are invited to contact us at info(at)roverapps(dot)com or visit: http://roverapps.com/sharepoint/
About Rover Apps
For companies competing in fast moving industries that demand on-the-run responsiveness, Rover Apps securely extends access to multiple enterprise data sources to mobile users on their smartphones and tablets. A full enterprise-grade platform, Rover meets the expectations of even the most demanding enterprises with respect to security, real-time integration between mobile devices and back-end systems, alignment with current workflows, and ease of deployment within a scalable architecture that's centrally managed. Rover's "build-once, deploy-to-many" platform is available through select channel partners. Headquartered in Atlanta, Rover can be found at http://roverapps.com
###