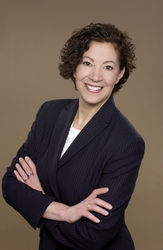 "This book should be required reading for medical students, physicians and caregivers who want to learn more about what is going on inside the head of a patient facing cancer," says George D. Demetri, MD, Director, Ludwig Center, Dana Farber/Harvard
Boston, MA (PRWEB) February 28, 2011
Meg Stafford, Executive Coach, psychotherapist, and newspaper columnist has released her new book, Topic of Cancer: Riding the Waves of the Big C. Communicating with her Breasty Business Team throughout treatment, Stafford takes readers along her journey of navigating the riptides and crosscurrents of breast cancer. She explains the daily choices that arose, and details the emotions and quirky occurrences of her riveting experience; often through her quick wit and humorous outlook.
"This book should be required reading for medical students, physicians and caregivers who want to learn more about what is going on inside the head of a patient facing cancer," says George D. Demetri, MD, Director, Ludwig Center at Dana-Farber/Harvard Cancer Center.
Stafford was diagnosed with Stage II lobular invasive breast cancer in June of 2007. Throughout her treatment which included surgeries, chemotherapy and radiation, she communicated with her friends and family via e-mail in what she called her Breasty Business Update. This became a permeable membrane of expression, and Stafford heard from a number of people that she helped them understand a family member or friend who had undergone a similar experience, or who may be facing treatment themselves. Others responded to the jokes and commentary included in Meg's missives. Their encouragement to formalize the Breasty Business Update inspired her to edit her online journaling into this informational, inspiring, and entertaining, new book.
"It's a great read, engrossing, hilarious…I kept turning pages, hungry for more…Deeply moving, wonderfully astute, and written with a wicked sense of humor," states Robin Schoenthaler, MD, MGH Department of Radiation Oncology at Emerson Hospital.
Early readers are giving positive reviews of Topic of Cancer: Riding the Waves of the Big C. These individuals include: people who are cancer patients; loved ones of people with cancer; professional caregivers; and people who are battling other types of serious illnesses.
"This beautifully written memoir is an empowering and contagious illustration of the richness and possibility that unfold when listening to one's own voice and living each day consciously." Colleen Stevens, whose 38 year old husband is undergoing extensive cardiac treatment.
What results in her book is a connection to Stafford, to ourselves, and to life itself.
And, based on her cancer experience and professional background, Stafford delivers talks on such topics as: Leading from Within, Developing Emotional Intelligence, Using Writing as a tool for Mindfulness, and the Role of Community in Healing.
Topic of Cancer: Riding the Waves of the Big C is currently available on Amazon.com, Barnes and Noble.com, through online book retailers, and through special order at your favorite book retailers.
To reach Meg Stafford for media inquiries or speaking engagements, contact: Meg Stafford, phone 978-501-2659 or email megstaf@aim.com or website:http:// http://www.MegStafford.com.
About Meg Stafford:
Stafford has over 25 years experience as a clinical social worker, honing observations about people, and working in settings as large as Beth Israel Hospital, a Harvard teaching hospital, and as intimate as private practice. She holds certificates in Executive Coaching and Organizational Consulting from the Massachusetts School of Professional Psychology. She has been a columnist for several newspapers over the span of the last nearly thirty years, covering such topics as My BFF, A Summer Romance (about a frog), Dealing with Three Deaths, and the Round Oak Table, about the importance of family occasions around the large hand hewn table.
# # #