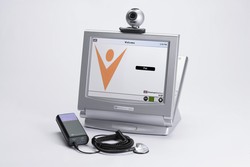 With ATI we are bringing our exceptional, whole-person care into the homes of the people we serve
Minneapolis, MN (PRWEB) March 2, 2011
American TeleCare (ATI), Inc. announced today that Courage Center, Minneapolis, has selected ATI telemedicine technology and services for clients of its Primary Care Clinic, which is designed as a health care home for people with disabilities and complex health conditions. With ATI technology and support, Courage Center will incorporate telemedicine monitoring and video visits to keep clients connected to the Primary Care Clinic's multidisciplinary professionals in between their visits to the Clinic. Courage Center will launch the telemedicine component of its Primary Care Clinic during first quarter 2011.
"With ATI we are bringing our exceptional, whole-person care into the homes of the people we serve," said Nancy Larkin, Courage Center's chief operating officer. "Courage Center clients will experience improved continuity of care, which is especially important given that our clients have multiple and chronic health challenges, which may include, for example, neurological conditions, brain injury, spinal cord injury, diabetes, and heart disease."
"Courage Center's Primary Care Clinic exemplifies the health care home model by putting clients with complex care needs at the center of care teams that integrate all the areas of expertise required for their complete care," said Randy Moore, M.D., M.B.A., chief executive officer, American TeleCare, Inc. (ATI). "Our telemedicine solutions are designed to optimize this patient-centered model of care."
The health care home model provides timely intervention to improve health and quality of life, reduce hospitalizations and costs, and promote independence. Many people with disabilities cannot easily access medical services due to their physical limitations or transportation difficulties. But with their complex conditions, their health status can diminish rapidly without consistent monitoring. Telemedicine with ATI features daily client monitoring to maximize timely intervention if health conditions change. In addition, the telemedicine program includes patient education to support self-care and video visits when appropriate.
Courage Center is utilizing the LifeView™ Telehealth System from American TeleCare (ATI). Placed in clients' homes, LifeView Patient Stations are compact, easy-to-use monitors that gather and transmit both objective clinical data and subjective client-reported information. The Patient Stations prompt clients to answer health questions on a touch screen and use integrated medical peripherals (such as ATI's patented CareTone® Telephonic Stethoscopes) to transmit heart sounds, weight, blood pressure, pulse rate, and blood oxygen levels. Patient Stations are designed for ease of use by clients or their personal care attendants. The system includes interactive audio-video for televisits and video snapshot capture capability. ATI supports connectivity via Secure Socket Layer (SSL) technology over standard telephone lines, wired broadband connections, including Digital Subscriber Lines (DSL), or wireless cellular networks.
ATI system software provides a combination of visual and narrated instructions that guide clients through the process of taking their vital signs and other physiological measurements. The instructions also help them answer questions about their health. Clinicians and care teams can program Patient Stations with customized medication reminders, health status questions, care instructions, and education messages tailored for individual clients. On the system's Provider Stations, to be located in the Primary Care Clinic, a clinical dashboard assembles and summarizes patient data with color-coded indicators to help care teams pinpoint and prioritize patients who require prompt attention and possible intervention.
About Courage Center
Courage Center is a Minnesota-based, nonprofit rehabilitation and therapy center that advances the lives of children and adults experiencing barriers to health and independence. Courage Center specializes in treating brain injury, spinal cord injury, stroke, chronic pain, autism, and disabilities experienced since birth. Founded in 1928, Courage Center offers advanced technologies and innovation provided in part through the efforts of thousands of volunteers and donors. For more information visit the Courage Center website: http://www.CourageCenter.org.
About American TeleCare
Founded in 1993, American TeleCare, Inc. (ATI) is the pioneer in the development and deployment of telehealth-supported solutions for connected care. ATI solutions establish and sustain telemedicine monitoring and constant care of patients -- keeping them connected to expert clinical care to improve and maintain their health. In partnership with leading health care delivery systems, ATI organizes and supports interdisciplinary care teams that extend clinical expertise to patients whenever and wherever it is required. ATI's partners achieve 65 to 95 percent reductions in emergency department and inpatient utilization for patients with the highest burden and complexity of disease. For more information, visit http://www.americantelecare.com. Then call 800-323-6667.
# # #