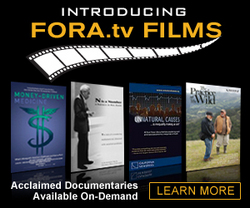 To my mind FORA.tv is the future, here, right now and dedicated to the distribution of films and audiovisual experiences that have one thing in common: quality
San Francisco, CA (PRWEB) March 2, 2011
FORA.tv, the leading online destination for intelligent video programs on the people, issues, and ideas changing the world, today introduced a new service: FORA.tv Films. The offering provides pay-per-view access to acclaimed documentary films and helps filmmakers reach passionate, engaged audiences worldwide.
"The addition of documentary films to our video library strengthens our position as a hub for discourse and debate around the biggest issues and news stories of the day," said Blaise Zerega, CEO of FORA.tv. "Our audience members regularly ask us, 'What about documentary films? When will you offer them?' With today's launch, we're happy to oblige."
FORA.tv Films (http://fora.tv/films) is a natural extension of the award-winning FORA.tv platform, connecting curious viewers to the information they seek -- in this case, compelling analysis of important social issues, great thinkers, and big ideas, all from critically-acclaimed documentary filmmakers. The new service features award-winning titles from some of the greatest names in documentary films including California Newsreel, San Simeon Films, and Zala Films. For 30-days of on-demand access to each film is $4.95 for individual home use, $49.95 for schools, universities and libraries, and $99.95 for corporations and government agencies.
"I'm delighted to work with FORA.tv to help bring N is a Number to a worldwide, online viewing audience defined by their interest in mathematics, curiosity about ideas, and their love of storytelling," says writer and independent filmmaker George Csicsery. "For me, this is an exciting experiment in bringing a film which has proven itself in more traditional venues to the online world."
Csicsery has directed 27 films--dramatic shorts, performance films and documentaries. N is a Number: A Portrait of Paul Erdos follows for four years the most prolific mathematician who ever lived. The film has won many honors including a Gold Apple Award from the National Educational Film & Video Festival, a Gold Plaque Award from the Chicago International Film Festival, and official selections from numerous festivals.
"To my mind FORA.tv is the future, here, right now and dedicated to the distribution of films and audiovisual experiences that have one thing in common: quality. I am very pleased to have my film The Practice of the Wild on their roster," says director John J. Healey.
The Practice of the Wild: A Conversation with Gary Snyder and Jim Harrison examines the life of Pulitzer-prize winning poet Gary Snyder, who has been at the center of cultural changes which transformed the modern world. Along with Jack Kerouac and Allen Ginsberg, he was a founding author of the Beat generation. The film was an official selection of the San Francisco International Film Festival and received a special screening at the Nevada City Film Festival.
"FORA.tv is helping to bring documentary series exploring racial and socioeconomic inequalities in health, Unnatural Causes and Money Driven Medicine, to a worldwide, online viewing audience," says California Newsreel Executive Director Lawrence Daressa.
California Newsreel produces and distributes cutting edge, social justice films that inspire, educate and engage audiences. Founded in 1968, Newsreel is the oldest non-profit, social issue documentary film center in the country, the first to marry media production and contemporary social movements.
FORA.tv Films follows the success of FORA.tv Premium Events, which offers pay-per-view programming from the world's top conferences, universities, and public forums. At FORA.tv, we believe that there are brilliant ideas expressed everyday, everywhere. We don't want you to miss them.
For more information on FORA.tv Films, please visit: http://fora.tv/films
About FORA.tv
FORA.tv is the leading online destination for intelligent video programs on the people, issues, and ideas changing the world. FORA.tv presents free and fee-based viewing of the web's largest collection of videos drawn from live events, lectures, interviews, and debates going on all the time at top universities, public forums, think tanks and conferences. FORA.tv helps hundreds of organizations including the Aspen Institute, New York Public Library, and Wired reach passionate and engaged audiences with video programs on the most interesting issues within politics, business, technology, science, and culture, and the environment. FORA.tv has been named a Top 50 Web Site by TIME, and a Top Education Site by The Telegraph. FORA.tv is funded by a select group of investors led by William R. Hearst III and is based in San Francisco. FORA.tv can be found at http://fora.tv.
# # #