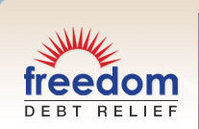 The savings bond award is just one additional, small way we can further help a client who is working his way out of serious debt and toward achieving financial freedom.
San Mateo, CA (PRWEB) March 4, 2011
Freedom Debt Relief (FDR) is celebrating its landmark billion-dollar debt negotiation milestone by awarding a $5,000 savings bond to the individual whose settled debt hit the mark for the company.
When FDR resolved the debt of a client* from Redwood City, Calif., in December, the company officially became the first company in the nation to attain $1 billion in resolved debt. "The debt we resolved for this client was his final debt, so hitting this milestone with him is especially gratifying," said Andrew Housser, CEO of FDR. "The savings bond award is just one additional, small way we can further help a client who is working his way out of serious debt and toward achieving financial freedom."
The award falls in line with FDR's philosophy of working with its clients not only to resolve current debts, but also to learn and adopt sound personal finance habits leading to debt-free lifestyles. For every client, the company offers individualized personal finance counsel at no additional charge, and works with each person to create and use a simple budget. "FDR is serious about its commitment to help each client who turns to us for debt relief get out – and stay out – of debt," explained Housser.
The savings bond recipient turned to FDR after accumulating medical and credit card debt he could not pay off himself. "With little success at negotiating with creditors on my own, it didn't take me long to realize I needed to work with a company that had more leverage than I did," he says.
With FDR's team of negotiators "on his side," he states that he was able to resolve his debt in less than 18 months. The software engineer considers his savings bond a big bonus. "To receive this savings bond so soon after completing my debt program is like getting a cherry on top of a sundae," he says. "The money makes a sizable addition to my re-started savings."
Working with nearly 100,000 clients since 2002, FDR reached $1 billion in face value of debt resolved by negotiating settlements on 188,000 individual creditor accounts. "The results indicate that our debt counselors' efforts to help consumers find the best program for their individual situations are working exceptionally well," said Housser. FDR is currently resolving approximately $40 million in debt each month, and expects to resolve an additional $500 million in debt for its clients in 2011.
About Freedom Debt Relief (http://www.freedomdebtrelief.com)
Freedom Debt Relief provides consumer debt resolution services. Working as an independent advocate for consumers to negotiate with creditors and lower principal balances due, the company has resolved more than $1 billion in debt for nearly 100,000 clients since 2002. The company is a charter member of The Association of Settlement Companies and a platinum member of the International Association of Professional Debt Arbitrators. FDR holds the Goldline Research Preferred Provider certification for excellence among debt settlement companies.
Freedom Debt Relief is a wholly owned subsidiary of Freedom Financial Network, LLC (FFN). Based in San Mateo, Calif., FFN also operates offices in Sacramento and Tempe, Ariz. The company, with more than 500 employees, was voted one of the best places to work in the San Francisco Bay area in 2008 and 2009, and in the Phoenix area in 2008, 2009 and 2010. FFN's founders received the Northern California Ernst & Young Entrepreneur of the Year Award in 2008.
Name withheld for client's privacy.
###