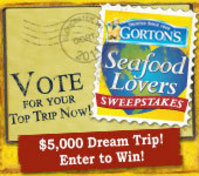 Gorton's makes it easy and delicious to enjoy seafood twice a week and meet the USDA guidelines recommendation
Gloucester, MA (PRWEB) March 8, 2011
The message of the USDA's updated Dietary Guidelines is clear: Eat more seafood to help fight obesity and improve your overall health. It recommends increasing consumption of seafood to 8 oz or more per week for those ages 3 and up. (Assuming the typical serving is 4 oz, this recommendation would be equivalent to two servings a week.)
Gorton's Seafood is inspiring consumers to get their twice-a-week seafood by sharing delicious travel-themed seafood recipes in their new Seafood Lover's Sweepstake, and will give away a grand prize Seafood Lover's getaway to one of six amazing destinations including Gloucester, Massachusetts; Key West, Florida; Las Vegas, Nevada; the Caribbean; the Greek Isles; or Italy. Gorton's invites consumers to enter the Seafood Lover's Sweepstakes every day from February 11 - April 12, 2011, where they will determine the ultimate grand prize vacation destination through daily online voting.
"Gorton's makes it easy and delicious to enjoy seafood twice a week and meet the USDA guidelines recommendation," stated Zach Soolman, Director of Marketing at Gorton's. "Now, our travel-themed seafood recipes offer our consumers a delicious culinary 'trip around the world' that we hope inspires home chefs to try new recipes and add more seafood to their diets."
Gorton's travel-inspired recipes, which can be found on the company's web site Recipe Section , include Butterfly Shrimp with Key West Sauce, Athenian Fillets, Grilled Gloucester Rollup, Southwestern Fillet Sandwich, Grilled Shrimp Bruschetta and Grilled Tilapia Tropical Spinach Salad. The recipes feature a variety of Gorton's Seafood products including Lemon Peppercorn Grilled Tilapia, Crispy Batter Fillets, Classic Grilled Salmon, Lemon Pepper Battered Fillets and Butterfly Shrimp.
For more information, contest details and official rules, visit Seafood Lover's Sweepstakes.
Gorton's is also offering downloadable coupons as well as a and a free digital newsletter that provides monthly recipes and coupon offers. In addition, Gorton's Seafood is now on Facebook and Twitter where consumers may connect with the brand in social media and be the first to hear about news, contest announcements and special promotions.
About Gorton's
Founded in 1849, Gorton's is one of America's oldest continuously operating companies. Headquartered in Gloucester, Massachusetts, Gorton's continues to be the innovative leader in the seafood industry. Gorton's full line of frozen seafood products includes Breaded Fish Sticks and Fillets, Beer Batter Fillets, Tenders, Popcorn Shrimp, Grilled Fillets, including Tilapia and Salmon, Premium Fillets, and Grilled Shrimp. Gorton's products are available nationwide in better independent and chain grocery stores. Gorton's proudly stands behind its products with its "Trust the Fisherman Guarantee," which represents an unwavering commitment for over 150 years to providing the best-tasting, highest quality seafood meals. The Gorton's Fisherman, in his yellow slicker and rain hat, has become an icon symbolizing this commitment. For more information, please visit http://www.gortons.com or call 1-800-222-6846.
###