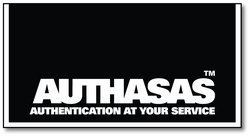 Authasas® is dedicated to providing strong authentication solutions to healthcare in the United States and globally.
Amsterdam, The Netherlands (PRWEB) March 9, 2011
Authasas® "Authentication at your Service" announced the release of Authasas Advanced Authentication® for Microsoft® Vergence. This solution integrates market-leading authentication technology with Vergence, Microsoft's flagship product for managed clinical workstations, providing healthcare professionals context management, single sign-on and authentication to clinical systems. Authasas Advanced Authentication® secures single sign-on credentials with biometric fingerprint authentication as well as other available authentication methods such as smart cards, contactless smart cards, and USB Flash drive token authenticators.
Authasas is dedicated to providing state of the art authentication solutions to healthcare in the United States and globally. Biometric fingerprint authentication is ideally suited to clinical environments, as the increased security provided by the system actually improves access times for the care provider. Improving caregiver productivity is the cornerstone of Microsoft® Vergence. With Vergence, a caregiver continues to use the various applications they require to do their jobs, but the workflow is streamlined by eliminating the tedious, time-consuming, and error-prone activities of signing on to each application and then searching for the patient's record in each application.
"Vergence is used daily by 500,000 caregivers, and our objective is clear" – says Reinier van der Drift, CEO, Authasas® -"to provide these users, as well as users within organizations currently considering SSO, context management, and strong authentication, with a unified solution for streamlining the secure access to clinical systems and patient data."
Authasas® is committed to satisfying the compliance requirements for HIPAA and the HITECH Act in the United States, and we're acutely aware of the usability benefits that strong authentication technologies can deliver in a clinical environment. Fingerprint biometrics addresses the strong authentication requirements of these regulations, and does so with minimal complexity and expense.
The initial integration provides 1:1 biometric authentication to Microsoft® Vergence; and Authasas® is excited to announce that the next development phase includes 1:n identification and authentication through seamless integration with WEB-key®, BIO-key International's proprietary advanced finger identification algorithm. BIO-key International® is a recognized leader in advanced finger biometric technology and BIO-key software is used by government agencies, healthcare providers and companies that deliver identity and access management worldwide.
"BIO-key is proud to have played a role initiating the Authasas and Microsoft business relationship. The alliance will prove to offer significant security and performance benefits to the healthcare field" stated Scott Mahnken, VP Marketing BIO-key International, Inc.
About Authasas
Authasas provides software and consulting services to enable organizations to deliver strong authentication to Windows networks. Authasas Advanced Authentication is distributed across the globe via a network of value added distributors and resellers. Authasas is a division of BioXS International BV.
For more information please visit http://www.authasas.com.
About BioXS
Founded in 2001, Amsterdam-based BioXS International is Europe's specialized supplier of strong authentication solutions, i.e. biometric solutions to secure access to computers, networks, data, and physical spaces.
For more information please visit http://www.bioxs.com
About BIO-key
BIO-key International, Inc., headquartered in Wall, New Jersey, develops and delivers advanced identification solutions to commercial and government enterprises, integrators, and custom application developers. BIO-key's award winning, high performance, scalable, cost-effective and easy-to-deploy biometric finger identification technology accurately identifies and authenticates users of wireless and enterprise applications. Our solutions are used in local embedded OEM products, as well as some of the world's largest identification deployments, to improve security, guarantee identity, and help reduce identity theft. BIO-key's technology is offered directly or by market leading partners and OEMs around the world.
For more information please visit http://www.bio-key.com
Contact Information
Mark Nieuwenhuizen
Communication & PR
+(31) 6 513 62 670
Authasas Advanced Authentication
USA Office
106 E. Sixth Street,
Suite 900,
Austin, TX 78701
(512) 322-5792
###