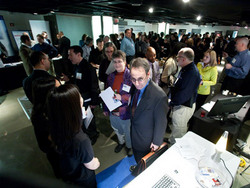 "This award recognizes and honors businesses that have developed and executed a strategy producing significant growth in profits or marketshare over the past few years," says Marian Banker, MBA, Co-Producer of the Small Business Summit and President of
New York, NY (PRWEB) March 8, 2011
Smallbiztechnology.com and Prime Strategies, organizers of the Sixth Annual Small Business Summit (@smallbizsummit) will present the 2010 Small Business Strategy Award and Hot Tech Demo winners on stage today at Digital Sandbox in New York City.
ath Power Consulting, a leading financial services market research and strategy firm, has been named winner of the 2011 Small Business Strategy Award. Shady Grove Eye and Vision Care and Great Bear Auto Body & Repair were named as runner up winners for this award. Twisplays, a technology firm that allows you to conveniently display whatever Twitter streams you desire from a larger LED screen, has been named the winner of the 2011 Hot Tech Demo.
"This award recognizes and honors businesses that have developed and executed a strategy producing significant growth in profits or marketshare over the past few years," says Marian Banker, MBA, Co-Producer of the Small Business Summit and President of Prime Strategies. "ath Power Consulting is an excellent example of success using the strategy of finding and leveraging their opportunity in a market downturn", adds Banker.
"We feel honored to be presented with the 2011 Small Business Strategy Award," said Frank Aloi, President and CEO of ath Power Consulting. "As the downturn in consumer sentiment continued in financial services, we knew that analyzing and improving the customer experience would - or certainly should - be a top strategic priority in the U.S. banking industry. Our goal was to prove how ath Power could help financial institutions rebuild sustainable profitability, trust in the market and return to high performance by using our solutions. We achieved that goal by implementing a solid business strategy, ultimately leading us to increased customer retention and profits. ath Power is proud to be recognized for our achievement."
"I am so pleased again this year that the 'Hot Tech' demo segment has received such a great response," says Ramon Ray, Co-Producer of the Summit, Editor & Technology Evangelist of Smallbiztechnology.com. "Small businesses want to see how technology can transform within their business and budget and Twisplays is a perfect example of this. Providing any business the ability to extend their brand and messaging by leveraging their existing Twitter stream is a perfect example of how to expand to a larger audience without breaking the bank", adds Ray.
"We are excited to be named the 2011 Hot Tec Demo Winner, says Joshua Persky, CEO of Twisplays. Our goal is to help businesses promote their brand and increase sales by leveraging existing social media marketing programs, in this case with Twitter." During the Summit, each of the winners will showcase and tell how their products help a growing business and why it's important.
To learn more about the Summit or these business owners or to sign up for the live webcast of this sold out event, visit smallbiztechsummit.com.
# # #