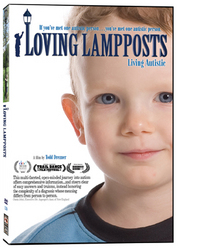 "A BREAKTHROUGH FILM…a journey of love and acceptance that thousands of parents will be taking with their kids…offering the fullest picture to date of the emerging neurodiversity movement and what it has to teach us all." -Steve Silberman, WIRED Magazine
Los Angeles, CA (PRWEB) March 9, 2011
Today autism affects approximately one out of every one hundred children, a substantive increase from one in 2,500 as diagnosed thirty years ago. In recent years, as autism has exploded into the public's consciousness, two camps have formed: those who believe it is a devastating disease to be cured and those who feel that autism is just a variation of the human brain. First-time director, Todd Drezner, the father of an autistic son, Sam, has shared his personal journey of coming to terms with autism by taking a wide-angle view on the issue and presenting a heartfelt case that acceptance is the better way. LOVING LAMPPOSTS: LIVING AUTISTIC will be available on DVD and VOD platforms in the US and Canada on March 29, 2011 from Cinema Libre Studio.
After his son's diagnosis, filmmaker Todd Drezner visits the front lines of the autism wars to learn more about the condition. He interviews parents and experts representing the "recovery movement," which views autism as a tragic epidemic brought on by environmental toxins such as childhood vaccinations. Operating outside the boundaries of mainstream medicine, these parents, doctors and therapists search for unconventional treatments that can "reverse" autism and restore their children to normal lives. He attends the National Autism Association conference, where he speaks with purveyors of "alternative treatments" such as hyperbaric chambers and saunas, believed by many parents to aid in the removal of toxins from their children, and interviews actress Jenny McCarthy, the mother of an autistic child, who has been a spokesperson for Generation Rescue and TACA (Talk About Curing Autism), and other parents who believe they have "cured" their children with alternative treatments.
Drezner visits with proponents of the "neurodiversity movement," those who believe that autism is just another way of being. He interviews experts, parents and most significantly, adults living and functioning with autism. He interviews Simon Baron-Cohen, the Director of the Autism Research Centre at Cambridge University; parents Kristina Chew and Jim Fisher, both professors at the university level; high-functioning adults living with autism, including Sharisa Kochmeister who does not speak but has the IQ of a genius, and Dora Raymaker, an autistic adult who speaks via a computer and is the co-director of the Academic Autistic Spectrum Partnership in Research and Education.
He also turns the camera on his own family, including his wife, Erika Drezner, and Sam, sharing their private struggle with the world. Says Drezner, "In more than three years since I've immersed myself in the world of autism, the world at large has paid more attention to autism than ever before. Never has a community been less ready for its cultural moment than the autism community. Indeed, there is disagreement about whether autism is a disease, about how to treat it, about whether it is an epidemic, about whether it can be cured, and even about what it is. Although we can't claim to have resolved these debates conclusively, we hope that this film will at least help parents and the broader public see the consequences of the relentlessly negative mainstream view of autism and help them understand that acceptance offers a better path."
The title of the film refers to the circuit of lampposts that Drezner's son likes to visit in Brooklyn, NY's Prospect Park.
Synopsis:
As autism has exploded into the public consciousness over the last 20 years, two opposing questions have been asked about the condition fueling the debate: is it a devastating sickness to be cured or is it a variation of the human brain – just a different way to be human? LOVING LAMPPOSTS: LIVING AUTISTIC takes a look at two movements: the "recovery movement," which views autism as a tragic epidemic brought on by environmental toxins, and the "neurodiversity movement," which argues that autism should be accepted and that autistic people should be supported. After his son's diagnosis, filmmaker Todd Drezner visits the front lines of the autism wars to learn more about the debate and provide information about a condition that is still difficult to comprehend. http://www.lovinglamppostsmovie.com | Twitter | Facebook | Trailer | High Res DVD Art
DVD DETAILS: SRP: $19.95 | TRT: 83 minutes | Street Date: 3/29/11
UPC: 881394111721 | Catalog: CLS 1117 | Genre: Documentary
DVD Extras: Extended Interviews include: adults living with autism Sharisa Kochmeister and Dora Raymaker; autism experts Simon Baron-Cohen (Dir. of the Autism Research Ctr in Cambridge) and Roy Richard Grinker (Prof. of Anthropology at George Washington University), and parents of autistic children Lila Howard and Ralph James Savarese
ABOUT CINEMA LIBRE: Cinema Libre Studio, a leader in distributing social issue documentaries and features by passionate filmmakers, is a haven for independent filmmakers offering a complete array of production and distribution resources. Headquartered in Los Angeles, the Cinema Libre team has released over one hundred films and is best known for releasing the award winning films: OUTFOXED, UNCOVERED:THE WAR ON IRAQ, Participant Media's ANGELS IN THE DUST, the Independent Spirit John Cassavetes Award Winner, CONVENTIONEERS, the Sundance Audience Award-winning FUEL and the studio's highly acclaimed production, THE END OF POVERTY?. The company is currently releasing Oliver Stone's documentary SOUTH OF THE BORDER with films from Haskell Wexler and Rachid Bouchareb slated for 2011 releases. In 2011, Cinema Libre Studio is producing THE LAST DAYS OF KARL MARX in Algeria and Belgium as well as developing John Perkins' bestselling memoirs, CONFESSIONS OF AN ECONOMIC HIT MAN, into a major motion picture. For more information and updates, please visit: Website | Updates | Facebook | Twitter. Learn about our affiliate programs.
For screenings, grassroots and educational use contact: screening (at) cinemalibrestudio (dot) com
###